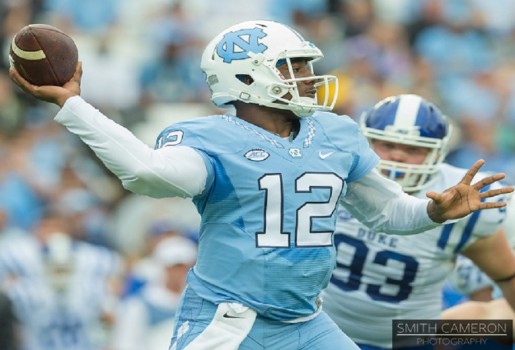 The Green Bay Packers still have a quarterback project with the last name of Williams on the roster after Thursday's National Football League transaction wire came down.
Ryan Williams had signed with Green Bay on January 5 after spending the 2015 season out of football and missing the 2014 season at the University of Miami with a knee injury.
One name, but two QBs - one is in and one is out for Green Bay today.
Williams went underrated in the 2016 NFL Draft but was quickly scooped up by the Minnesota Vikings just hours after the draft was over.

Marquise Williams added an extra dimension to the UNC offense with his superb rushing skills
Williams spent four seasons at North Carolina and started 33 of the 48 games he appeared in. Marquise Williams was the starter for two and a half seasons in Chapel Hill, finishing his career by setting more than 20 school records. The 6-foot-5 Williams last played for the Hurricanes in 2013.
His numbers in a four-year career were gaudy: 7,965 passing yards, 61 passing touchdowns; 2,458 rushing yards, 35 rushing touchdowns.
He will now replace Ryan Williams in the battle for the third-string quarterback position this summer behind Aaron Rodgers and Brett Hundley.