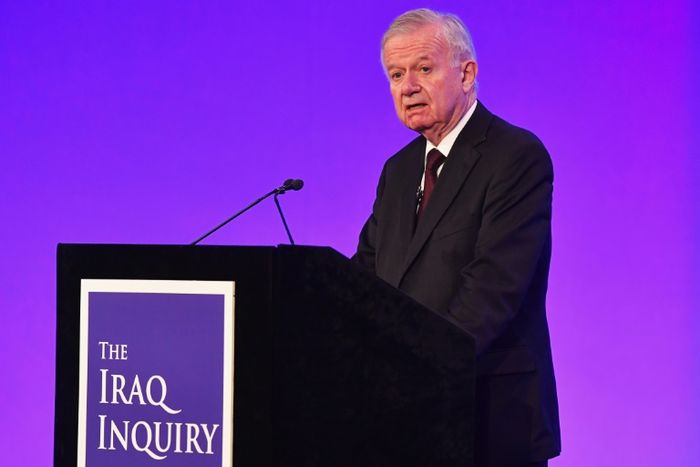 The move came as former prime minister Tony Blair was put on notice by families of dead servicemen that he faces legal action over what flowed from his fateful decision to tell then USA president George Bush "I will be with you whatever" eight months before the 2003 invasion.
The report, which comprises more than two million words, was critical of intelligence agencies.
George Michael's 2002 video for "Shoot The Dog", portraying a moronic George W. Bush and gutless Tony Blair is worth revisiting.
"Whether people agree or disagree with my decision to take military action against Saddam Hussein, I took it in good faith and in what I believed to be the best interests of the country".
"The government failed to achieve its stated objectives".
The "damning" summary of Tony Blair's decision to lead the country to war concluded "that the United Kingdom chose to join the invasion of Iraq before the peaceful options for disarmament had been exhausted". "Military action at that time was not a last resort".
A second vote, the main Government motion, was to use "all means necessary to ensure the disarmament of Iraq's weapons of mass destruction", and this was passed by 412 votes to 149.
Anti-war protesters rally in central London as the Chilcot report is released.
"What I cannot do and will not do", Mr. Blair said, 13 years after he first ordered British troops into action in Iraq, "is say we took the wrong decision".
He added however: "I personally don't know what difference that would have made since he was there around the table".
In his almost two hour-long response on Wednesday, he defended the decision to depose a "brutal dictator" and held up the report as proof against claims that his government had lied and manipulated evidence to support a predesigned quest for war, according to The Guardian. And he said the world was a safer place without Saddam, whom he labeled "a wellspring of terror".
Ford noted that Bush had not yet had the chance to read the lengthy enquiry report.
Mr Blair said he had relied on these reports, but acknowledged: "It would have been far better to have challenged them more clearly".
Mr Cameron said the inquiry did not determine the legality of the war, but said a legal advice was given and "made a legal case for a war". What was our position at the time of the war?
This file photo taken on July 30, 2009 shows John Chilcot, the Chairman of the Iraq Inquiry, outlining the terms of reference for the inquiry.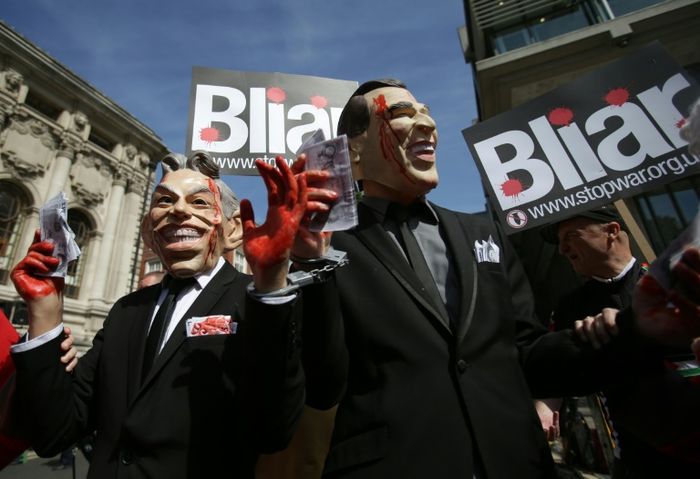 "All options are open", said Matthew Jury, a lawyer for some of the families.
Sarah's brother Sgt Bob O'Connor was killed in 2005 when the Hercules plane he was in was shot down north-west of Baghdad.
Australia sent 2000 troops and injected $5 billion into the conflict, during Mr Howard's prime ministership.
Yesterday, the Chilcot report was published after seven years, £100million and interviews with over 100 witnesses.
As relatives of British soldiers called the television performance a carefully choreographed act and one called Blair the "world's worst terrorist", he went on BBC Radio 4 on Thursday to admit that not many believed his expressions of regret over Iraq.
He argued that had Saddam Hussein been left in power, "he would have gone back to his [weapons of mass destruction] programmes again".
Chilcot's report found similar failings.
As a result of the experience in Iraq, global powers were approaching the issue of reconstructing Syria after its current civil war with "an appropriate degree of humility", he said.
But Chilcot said Blair should have been able to imagine it. Blair promised - without consulting government colleagues - "I will be with you whatever".
Following the publication of the report, Mr Blair said he took responsibility for "mistakes in planning and process" identified by the inquiry.
While Labour frontbencher Diane Abbott said that Mr Blair's reputation had "bled to death in the sands of Iraq".
And it said that after the invasion, Britain had only "limited" ability to influence US decisions. It concluded that Britain's combat mission "ended a long way from success" and saw British forces make a "humiliating" deal with militias in southern Iraq to avoid attacks.
Closing the discussion on the subject, Private Eye editor Hislop reminded the audience of the continuing violence in Iraq 13 years after British and American troops entered the country. The country remains plagued by violence, seen most recently in Sunday's vehicle bomb in Baghdad that killed more than 200 people.
"I think it's an absurd proposition", he said.