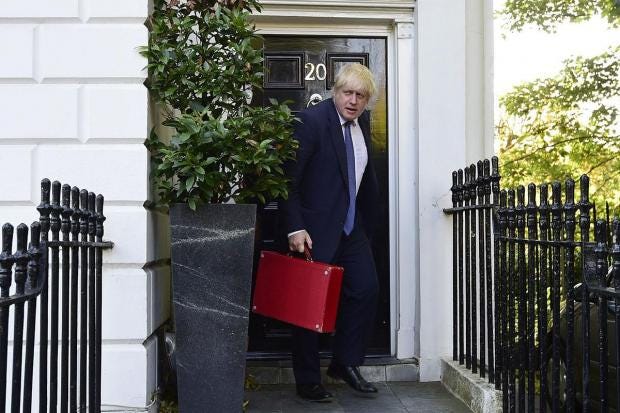 If you weren't already anxious about the former Mayor of London becoming the country's new foreign secretary, this 90 second compilation will do the trick.
"The Russian foreign minister sent congratulations to his colleague [Boris Johnson] who assumed this post", Zakharova said. So tone deaf he also wrote an extremely vulgar limerick about Turkish President Recep Tayyip Erdogan, using debasing sexual imagery to mock the leader of a mostly Muslim country.
British Foreign Secretary Boris Johnson said on Thursday that Britain could play an even greater role in Europe despite voting to leave the European Union, a view he said was shared by the United States.
"I am not at all anxious about Boris Johnson, but. during the campaign he lied a lot to the British people and now it is he who has his back to the wall", Ayrault told Europe 1 radio on Thursday.
Johnson actively campaign for the United Kingdom to leave the European Union - May was a Remainer - and backed her rival to be Conservative Party leader.
"I need a partner with whom I can negotiate and who is clear, credible and reliable". "The importance of his current position will definitely make him adopt a different rhetoric, a more diplomatic one", he added.
There was no word from Hillary Clinton's camp on whether she had forgiven his 2007 description of her as resembling "a sadistic nurse in a mental hospital".
Many British commentators questioned the wisdom of insulting the leader of Britain's most important ally.
"Johnson is also well known for apologizing: to the people of Liverpool for accusing them of mawkish sentimentality following the beheading of a resident of the city in Iraq; to the people of Portsmouth after describing the town as "too full of drugs, (and) obesity"; to the people of Papua New Guinea for associating them "with orgies of cannibalism and chief-killing, ' and to the people of Africa after remarking on their 'watermelon smiles". In another seemingly political disaster, Johnson then announced he supported May's challenger to become the next prime minister, not the home secretary herself.
That was a foretaste of the potentially hostile reception Johnson can expect when he attends his first European Union foreign ministers' meeting in Brussels on Monday.
Hours after May appointed him in an apparent effort to heal rifts in her Conservative party, France's foreign minister called Johnson a liar and the German foreign minister described Johnson's behaviour as "outrageous".
Labour leadership contender and Wallasey MP Angela Eagle said she thought of the Hillsborough families when she learnt Mr Johnson had been made Foreign Secretary.