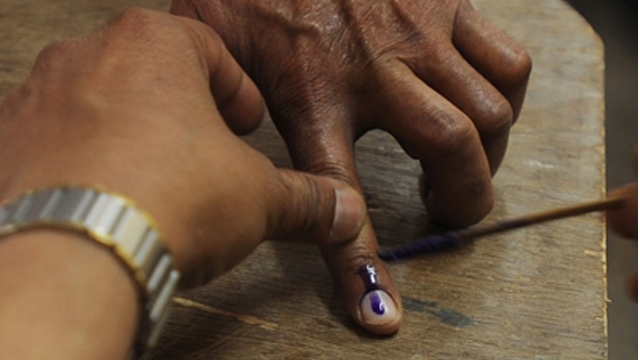 Mumbai: The BMC or Brihanmumbai Municipal Corporation election is more than civic body polls for parties in India's financial capital. Mumbai recorded only 16.40% voter turnout till 11.30am, which almost doubled from 8.7% till 9.30 am, some of the city's upmarket parts in South Mumbai saw very indifferent voter response till 11.30am.
The supporters of Shiv Sena and BJP on Thursday clashed after some Sena activists burst firecrackers outside the BJP office at Dadar in Central Mumbai as trends for the BMC polls started pouring-in, police said.
And so were Nationalist Congress Party President Sharad Pawar, his daughter Supriya Pawar, Shiv Sena President Uddhav Thackeray and Maharashtra Navnirman Sena President Raj Thackeray.
As many as 43,160 polling booths have been set up.
Controlled by the Shiv Sena and Bharatiya Janata Party (BJP) for four terms, the BMC has a budget of Rs 37,052 crore for the current year (2016-17) catering to a population of around 18.30 million. Votes are also being counted for 25 zila parishads (District Councils) and 283 panchayat samitis (Block Panchayats) across Maharashtra. With incumbent Shiv Sena lashing out at its on-again-off-again partner, the BJP, for its alleged misgovernance in the state and across the country, political observers and analysts have pegged the fight election as a fight between the BJP and the Shiv Sena. Nagpur, the home town of Maharashtra Chief Minister Devendra Fadnavis witnessed 53% turnout and Akola city in Vidarbha reported 56% turnout and Ulhasnagar 45%.
This is the highest voter turnout in civic polls since 2002. But the focus was on the BMC, which has a big budget to beat that of many other civic bodies and even states. "People are fed up with [state Chief Minister Devendra] Fadnavis' lies and inefficiency", Malik said. The civic polls took place on February 21.
Counting of votes for 132 wards of Thane Municipal Corporation underway;SS leading on 10 wards, NCP on 1 &. But Danve-Patil added that his party would wait for the Shiv Sena to approach them for a post-poll alliance in the Mumbai municipality.
Overall, 23 election officers, 23 assistant election officers and close to a thousand BMC employees helped carry out the process.