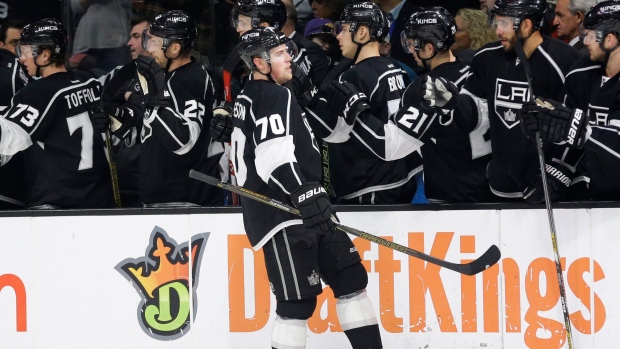 The Dallas Stars took the first step toward shaking up their situation in the crease on Tuesday and traded for pending free agent Ben Bishop.
The Kings send Bishop to the Stars in exchange for Dallas' fourth-round pick in the 2017 NHL Entry Draft.
"Ben has proven that he is one of the elite goaltenders in the National Hockey League", said Nill. "This offers us the opportunity to negotiate with him before the free agency period begins".
Bishop spent time with the Kings and Tampa Bay Lightning during the 2016-17 regular season, posting an 18-15-5 record with a.910 save percentage and 2.54 goal against average in 39 games played. But hey, we're sure whoever made that trade is still gainfully employed.
Pearson will return to a reconfigured franchise with the Kings, who fired Lombardi and coach Darryl Sutter after winning just one playoff game in the past three seasons. He battled injuries and inconsistency. He also has played for Ottawa and St. Louis.
So will the Stars lasso this 6-foot-7 steer?
But it won't be cheap to sign Bishop.
The Stars, with more than $10 million committed to Niemi and Lehtonen in 2017-18, will need to do some salary cap restructuring to lock up Bishop long term, but the deal seems to be a flawless fit for both sides.
Either way if the Stars sign Bishop they are once again paying a 30-plus goalie an incredible amount of money, and that didn't work very well last with Kari Lehtonen and Antti Niemi. If they keep Lehtonen and buy out Niemi (a $1.5 million cap hit for two seasons), the Stars could have more than $13 million in cap hit dedicated to goaltending for one season. The combined buyouts for both goalies would be about $3.5 million. One wonders if it's worth it for Dallas to make ye olde side deal with the Vegas Golden Knights to select Lehtonen in the expansion draft. The Kings get a shot at another draft pick to pick up another young talent for their future and the Stars get a shot at fixing their goalie woes. But he sports a career.919 SV% and finished second in Vezina voting in 2015-16 and third in 2013-14.