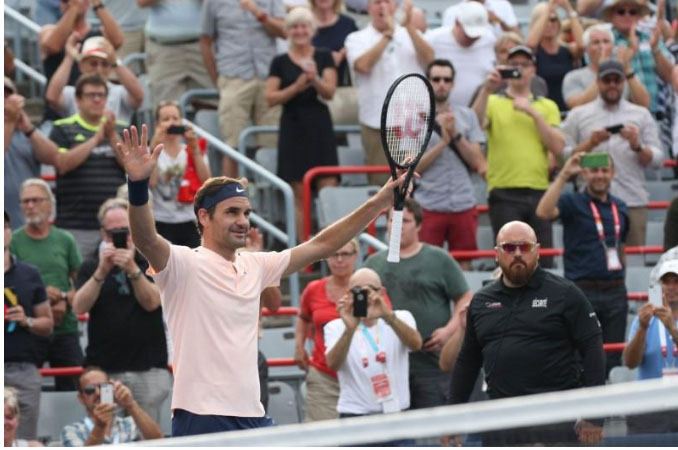 Roger Federer overcame a third-round blip to beat Spain's David Ferrer in three sets and reach the quarter-finals of the Rogers Cup in Montreal.
Caroline Wozniacki defeated World No. 1 Karolina Pliskova 7-5, 6-7 (3), 6-4 in a marathon Rogers Cup quarter-finals match in Toronto marred by four rain delays on Friday.
The 19-time Grand Slam victor Federer is seeking his 27th Masters 1000 title and his third Canadian Masters crown after wins in 2004 and 2006.
Canadian teen tennis sensation Denis Shapovalov had the biggest win of his young career on Thursday night when he upset top-seeded Spaniard Rafael Nadal in the round of 16 at the Rogers Cup.
"I'm happy - most happy that I'm actually really healthy going into the finals", said second seed Federer, who has won Masters titles in Indian Wells and Miami in 2017. I don't know how much Rafa cares about the year-end number one or if he just cares about getting back to it for a short while.
"I have reached levels that I never thought I would be able to reach, winning so many titles", Federer told the ATP's website.
"It pays off playing aggressively here in Montreal, plus I feel comfortable at net, so why not spend some time there instead of slugging it out from the baseline", Federer said in a post-match television interview.
Federer has taken more time off this year than usual.
"To be in the quarterfinals here in Montreal is a very good result for me, also getting hard-court matches under my belt".
He said he stuck around to watch the match and remembers how Igor Andreev, Nadal's opponent, rolled his ankle but still tried to battle it out, not unlike how Shapovalov himself has been powering through adversity this week. That took me, honestly, a couple of years to get more calm in my head, that I have to deal with it.
"He played well", Nadal said. Number one for me was anyway something for later in the year.
Who do you think will win the match? I just played loose after that, just went with it.
"But even Zverev, same thing".
But nobody in the local-laded media contingent really wanted to talk about the Swiss Maestro's gaudy accomplishments past, 15-match win streak present (longest since 2012) or imminent No. 1 future, even less about the dispatch of Haase from his first Masters semifinal. "Today, I felt that I didn't get into the rhythm of the match and I didn't feel the ball well". "Next week (in Cincinnati), different conditions, different courts, so it's tournament by tournament".
In a semifinals, seventh-seeded Rohan Bopanna of India and Ivan Dodig of Croatia defeated sixth-seeded Raven Klaasen of the Netherlands and Rajeev Ram of the United States 4-6, 7-6 (8), 11-9; and fifth-seeded Pierre-Hugues Herbert and Nicolas Mahut of France downed eighth-seeded Oliver Marach of Austria and Mate Pavic of Croatia 7-5, 6-3.