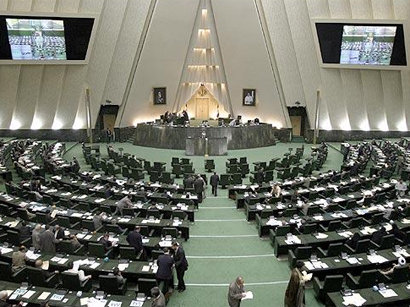 Iran's parliament has given initial approval to a bill to increase spending on the country's missile program and the Islamic Revolutionary Guards Corps (IRGC) in response to recent sanctions imposed by the United States.
About 240 Iranian lawmakers on Sunday overwhelmingly voted to approve a bill aimed at countering America's "adventurous and terrorist" activities in the region.
Washington's new sanctions violate a 2015 nuclear deal with Iran both "in letter and spirit".
Iran denies its missile programme violates a United Nations resolution which endorsed Tehran's 2015 nuclear deal with world powers and calls upon the Islamic Republic not to conduct activities related to ballistic missiles created to deliver nuclear weapons. Head of the Federation Council's global affairs committee Konstantin Kosachev says the decision to increase financing of the missile program, adopted by the Iranian parliament, is a logical response to the USA tougher sanctions.
Abbas Araghchi, a deputy foreign minister and senior nuclear negotiator on hand for the vote, said a moderate President Hassan Rouhani's government would support the bill.
The bill mandates the government to allocate an additional US$260 million for the "development of the missile programme" and the same amount to the Revolutionary Guards's foreign operations wing, the Quds Force, state news agency IRNA said.
"The plan should be aimed at addressing the USA bullies and threats against the Islamic Republic of Iran, Washington's hegemonic, terrorist and divisive policies, its illegal military and security interferences in the region, and the U.S. military and intelligence support of terrorism and extremism".
It was passed in the Majlis National Security and Foreign Policy Commission on Wednesday and was sent to Majlis Presiding Board to be put to a vote in the parliament.
The government must also use all available worldwide capacities, including the United Nations Human Rights Council, to take action against the USA over its human rights violations, "like its crimes against humanity in Yemen".