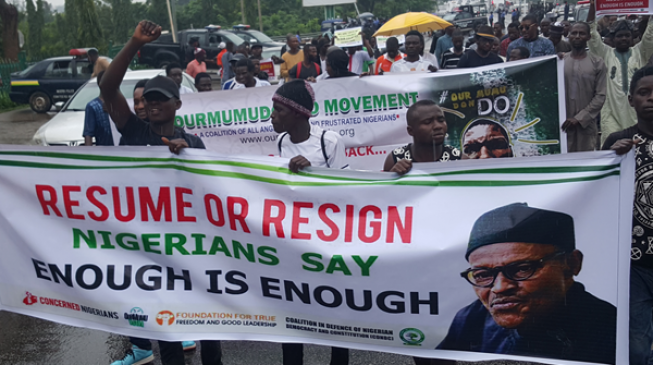 "There is tremendous improvement in his health which is why I would like to return home but I've learnt to obey my doctor's orders, rather than be the one issuing the orders".
Buhari left for the British capital on May 7 on what is his latest medical trip.
The President who has been away from the country for more than 90 days said this when members of his media team paid him a visit at the Abuja House in London on Saturday, according to a statement by his Special Adviser on Media and Publicity, Mr Femi Adesina.
AS calls for the resignation of President Muhammadu Buhari, due to his ailment continue to dominate discourse in the polity, a pro-Buhari group, Conference of Patriotic Nigerians has promised to stage a grand solidarity walk on Monday in support of the President.
Alhaji Lai Mohammed, Minister of Information and Culture, led the visiting team, accompanied by Mr. Femi Adesina, Special Adviser on Media and Publicity; Mallam Garba Shehu, Senior Special Assistant on Media and Publicity, and Lauretta Onochie, Personal Assistant on Digital/Online Media.
"If President Buhari can not return to Nigeria after 90 days, then he should resign and go home", one protester said at a sit-in on Monday. "Here, the doctor is absolutely in charge" the statement quoted him as saying. "I have now learnt to obey orders, rather than be obeyed". It gave us a lot of latitudes. "May God reward them".
Is there a cabal preventing him from returning or holding Nigeria hostage as it was during the Yar'adua administration?
The presidency also released photos of Buhari walking outdoors.
The post I'm obeying doctors' orders - Buhari appeared first on Vanguard News.