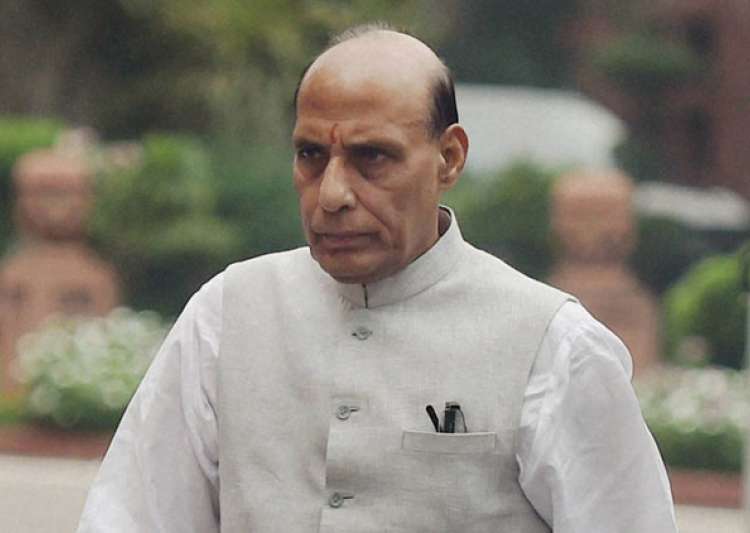 Hitting out at the Opposition and Congress over the convoy attack row, Union Home Minister Rajnath Singh on Tuesday while releasing a statement in Lok Sabha said that Rahul Gandhi was given all the security which he chose to overlook during his visit to Gujarat last week when he was attacked with a stone.
Referring to an earlier visit by Rahul Gandhi on July 21, 2017 to Gujarat, Rajnath said the Congress leader preferred to use a non-bullet resistance auto inspite of security suggestions by SPG on the contrary.
Singh told the Lok Sabha that the Gujarat Police was informed two days in advance before he arrived in the state.
"Rajnath Singh said", We want to know where did he go? "Why didn't he take SPG cover", Singh said.
"We want to know what is Rahul Gandhi trying to hide by not taking SPG along on foreign tours when he is an SPG protectee", he added. "Two Bullet Resistance cars were provided for Shri Rahul Gandhi at Dhanera but he sat in a Non BR vehicle while travelling", he later tweeted.
Last week, Rahul Gandhi visited flood-affected Banaskantha district in Gujarat where his convoy was pelted with stones. "Congress leadership blamed the BJP for the attack while the saffron party termed it a political stunt" ahead of the assembly elections in the state. Rahul Gandhi himself violated the security protocol and stopped at places which were not designated, he added.
Rajnath Singh also said that adequate security arrangements were made for Rahul Gandhi's Gujarat visit. He further said that if the stones had hit their leader, "he could have been killed". Banaskantha superintendent of police Neeraj Badgujar said a man threw stones at Gandhi's auto, breaking its rear glass when he was on his way from Lal Chowk to the helipad in Dhanera.
While raising the issue in the Lower house, M Mallikarjun Kharge questioned the government, saying that Centre had stated that the stone pelters in the Valley were terrorists.
After repeated adjournments, Speaker Sumitra Mahajan adjourned the house for the day to meet again on Wednesday at 11 am.