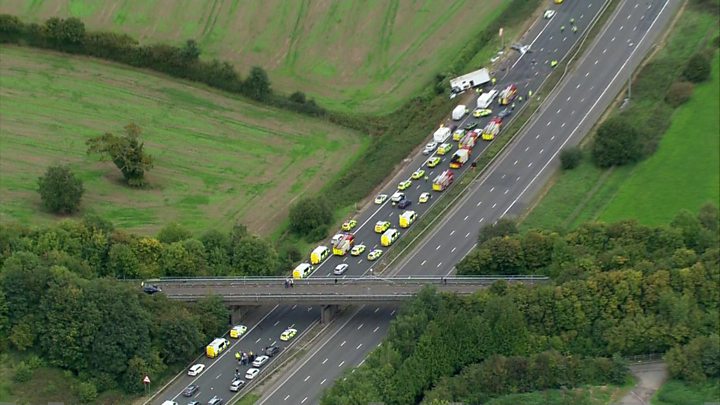 Four people have died in a collision on the M5 in south Gloucestershire this afternoon.
The motorway is closed in both directions between J16 and J14 - it's expected to remain closed until later tonight.
"Sadly, at least four people have died", Avon and Somerset Police said in a statement.
At just before 2.30pm, a lorry travelling southbound went through the central reservation and was in collision with at least two other vehicles in the northbound carriageway.
Emergency services arrived at the scene at 2:30pm where other drivers were attempting to assist the injured.
Several vehicles were involved, including a lorry.
Expressways England cautioned of "long postponements" and prior said there was a six-mile line northbound between intersection 18 for Avonmouth and 16 for Almondsbury.
Cardiologist Dr Amer Hamed was in a auto travelling "10 to 20 seconds behind" when the crash happened.
Dr Amer Hamed who was in a auto behind helped a GP and other medics tend to the injured woman before paramedics arrived six minutes later and rushed her to hospital.
Dr Hamed added: "People are helping as much as they can. One was absolutely destroyed and another had flipped over".
The most striking thing about the scene is the nearly complete silence here.
Another person wrote the lorry had crashed through the central reservation and drove off the road.
"There are now 13 ambulances at the scene including a critical care team". While others converse with cops about the misery of what has happened.
South Western Ambulance Service said it was called just after 14.30 BST.
It included drivers the M4 wanting to join the M5 northbound were not able do as such.