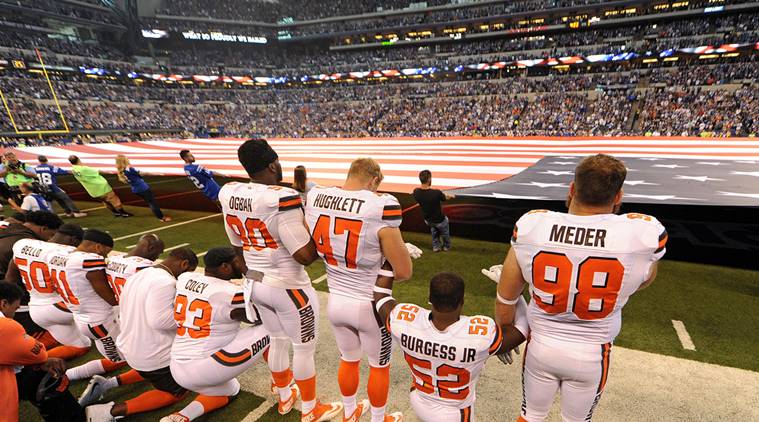 NFL players defied Trump on Sunday by kneeling during the national anthem before a game between the Baltimore Ravens and Jacksonville Jaguars.
Several players on both the Ravens and Jaguars chose to kneel during the USA anthem but stood for the United Kingdom national anthem.
National Football League players are already taking a firm stance against Donald Trump.
Players from both teams stood during the playing of "God Save the Queen" with team members linking arms during the song.
Here's a quick survey: Note that all of the sideline shots show players and staff - including Jaguars owner Shahid Khan, in the fourth screengrab in this set - linking arms during the "Star Spangled Banner", while some players also knelt. Khan is one of several league owners to have contributed $1 million to Trump's inaugural committee. "Fire or suspend!" the president said in a Sunday morning tweet.
Kraft, who has previously called Trump a very good friend when the Patriots visited the White House in April, said in a statement: "There is no greater unifier in this country than sports, and unfortunately, nothing more divisive than politics". "Our players are intelligent, thoughtful, and care deeply about our community and I support their right to peacefully affect social change and raise awareness in a manner that they feel is impactful".