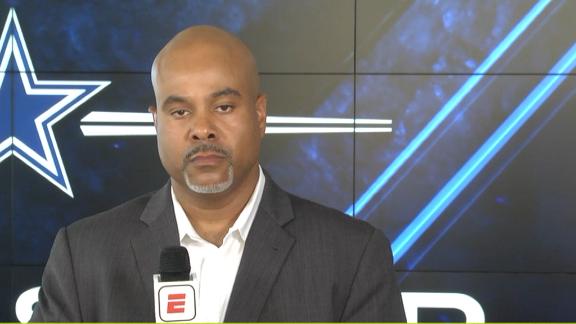 So when it was said, I was just like, Jerry Jones is the owner, that's what he says, he has the right to say what he wants to say - I don't feel like that affects me at all because I never had a plan to do anything during the National Anthem or something like that.
But on Sunday, Jones emphatically announced that any players from his team who "disrespected" the national anthem by not standing would not play.
He also referenced the entire poem, including its mention of slavery, the national anthem is based on and how Jones' demands don't match up with the principals of the country. Jones and the Cowboys then stood and linked arms for the anthem.
Dallas Cowboys owner Jerry Jones on Tuesday repeated his position that players on his team wouldn't play if they disrespected the US flag during the playing of the national anthem. But I really can't afford to be when it comes to the Dallas Cowboys and my No. 1 job. "We know that there is a serious debate in this country about those issues, but there is no question in my mind, that the (NFL) and the Dallas Cowboys are going to stand up for the flag". "That's what this says to me and to mine", Wilbon said, imitating what he assessed as Jones' thoughts.
"This is a workplace issue".
"He's changed that whole paradigm of what protest is", Ross said of Trump prior to his team's home opener, via the (South Florida) Sun-Sentinel. "We're trying to take them away from all the other parts of the newspaper".
The Dallas Cowboys owner indicated after a 35-31 loss to the Green Bay Packers on Sunday that anyone from his team who participated in such a demonstration would not be allowed to play.
National Football League players are union members and part of the labor movement that has woven the fabric of America for generations. Executive director DeMaurice Smith said Jones contradicted assurances last week from Commissioner Roger Goodell and New York Giants President John Mara that players could express themselves without reprisals.