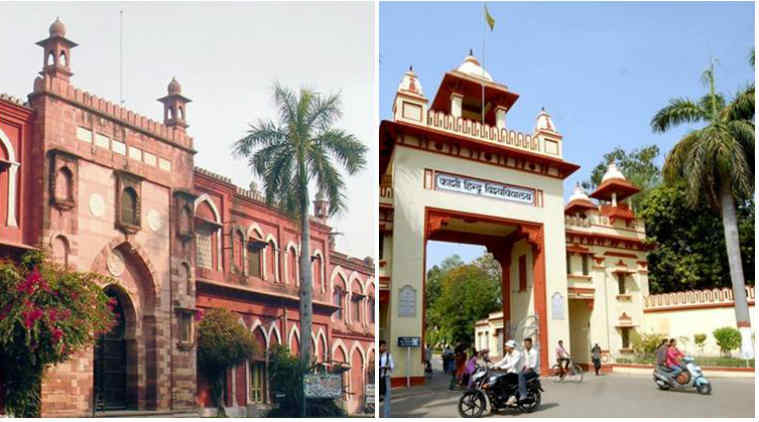 "We will not take cognizance of any of the suggestions that the committee has made in its report going beyond its terms and reference", the Minister added.
Words such as "Hindu" and "Muslim" in names of universities - Banaras Hindu University and Aligarh Muslim University - do not reflect their secular character and should be dropped, a panel of the top education regulator UGC has recommended.
Speaking on the condition of anonymity, panel members told IE that AMU is a centrally funded university and its name should reflect it being a secular institution.
In its audit of AMU, the committee suggested that the institution should either be called just "Aligarh University" or be named after its founder, Sir Syed Ahmed Khan.
The suggestion is contained in an audit of AMU by one of five committees set up by the University Grants Commission (UGC) in April this year.
The panel's mandate was limited to infrastructure and its academic, research and financial operations in these universities.
The AMU auditing committee also branded the university as "feudal".
"The university's 60:40 ratio of Muslim and non-Muslim students was not a designed pattern but due to a large number of courses like Arabic, Urdu and Farsi for which only Muslim students apply", said Tariq Mansoor, the Vice Chancellor of AMU.
It was earlier reported that the audit panel also recommended that the selection process of AMU's vice-chancellor should be changed to align it with the appointment procedure followed by other central universities.
The institutions under the scanner include Pondicherry University, Allahabad University, Hemwati Nandan Bahuguna Garhwal University in Uttarakhand, Central University of Jharkhand, Central University of Rajasthan, Central University of Jammu, Mahatma Gandhi Antarrashtriya Hindi Vishwavidyalaya in Wardha, University of Tripura and Hari Singh Gour University in Madhya Pradesh.
The UGC report has also said AMU promoted "inbreeding" and that the varsity didn't have a 'national character.' The report pointed out that a majority of faculty appointments are of former students.