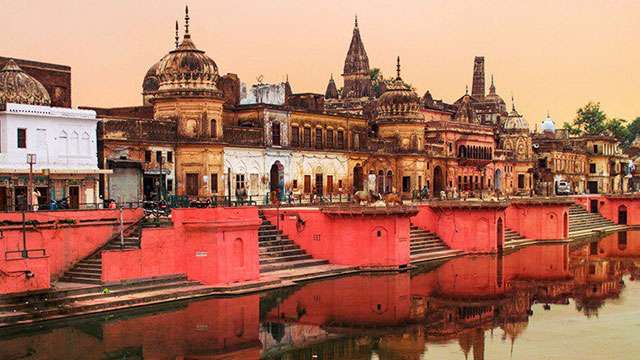 The Yogi Adityanath government in Uttar Pradesh has made a proposal to governor Ram Naik to build a grand statue of Lord Ram on the banks of the Saryu river in Ayodhya.
The communique stated that the statue will be build at Saryughat after clearance from the National Green Tribunal.
The government, amid the ever-present Ram Janmabhoomi debate, is now planning the statue not far from the disputed Ram Janmabhoomi-Babri Masjid site.
A no-objection certificate (NOC), is yet to be obtained from the National Green Tribunal (NGT).
The government's slideshow put the height of the statute at 100 m but some officials said that wasn't final. It is being planned as part of the Navya Ayodhya project which is seen as an initiative by the Uttar Pradesh government to promote religious tourism. UP Governor Ram Naik will also attend, as will union Tourism Minister KJ Alphonse and Culture Minister Mahesh Sharma."Ayodhya has its importance, we can not neglect that".
A presentation on the preparations for Diwali celebrations in Ayodhya, was given by Awasthi. A "deepotsav" will be organized on "Ram Ki Paidi" where 1.71 lakh earthen lamps will be lit, he said while giving a presentation to governor Ram Naik on Monday.
Governor Naik, chief minister Yogi Adityanath, union tourism minister KJ Alphons, and culture minister Mahesh Sharma will be in Ayodhya on the occasion.
Mahant Nritya Gopal Das of Mani Ram Das Chavni Peeth is likely to lead the procession, being taken out for the first time during Diwali in Ayodhya. The statue is part of the plan to showcase "Naya Ayodhya". Artists from Indonesia and Thailand will also stage Ramlila, the popular drama that enacts the Hindu deity's battle to kill the 10-headed demon king to rescue his wife Sita.
The budget presented by the Yogi government, which came to power in March, had special mention of Ayodhya, Varanasi and Mathura, earmarking Rs 1,240 crore for the Ramayan, Buddhist and Krishna circuits in these cities.
This comes amid the reports that a grand temple worth Rs. 30 crore is going to be built in honour of Prime Minister Narendra Modi in Meerut district of Uttar Pradesh.