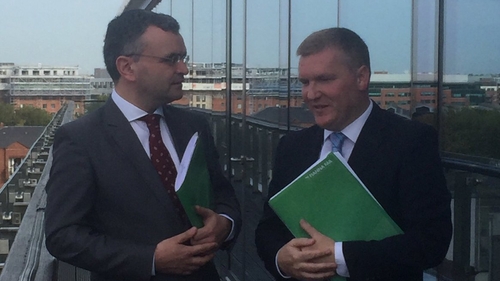 In a bid to slash skin cancer rates in Ireland - among the highest in the world - Value-Added Tax on sunbed services is to soar from 13.5% to 23%.
-50 cent increase on standard pack of cigarettes.
There will be no savings in PRSI or income tax.
Some €1.2 billion in new spending and tax cut was announced this afternoon, in a plan that Minister Donohoe hopes will build on the progress made over the past few years.
In a bid to address the homelessness crisis, €1.8 billion (£1.6 billion) will be allocated for housing.
Stamp duty is also set to rise from 2 to 5 per cent, which could raise 300 million euro.
The cost of social protection will be over 20 billion and in the last week of March 2018 all weekly welfare rates will increase by 5 euro per week.
Mr Donohoe said potentially 5,000 new homes could be delivered under this investment by 2021.
The vacant site levy, due to take effect from 2019, will increase from 3% to 7% in 2020. A Benefit in Kind scheme for electric vehicles will be brought in.
For workers, 2 USC rates have been lowered and income tax bands have been raised.
Meanwhile the 5% rate will drop to 4.75%.
Health expenditure to increase by €685m, bringing next year's total to just under €15.3bn.
Funding has also been announced for an extra 1,800 frontline staff.
Taoiseach Leo Varadkar said there would be "no fireworks" and no "big bonanza" as Budget 2018 was unveiled today. There will be 1,300 more posts in schools next year and the pupil-to-teacher ratio will reduce to 26:1. The Universal Childcare Payment for the under 3s will continue into next year.
For the self-employed, the earned income credit will increase by €200 (£178), bringing it to €1,150 (£1,128) per year from next year.
There's going to be more investment in An Garda Siochana - 800 new officers will be taken on in 2018, with 500 civilians also recruited.
The home carer tax credit is to increase by €100 (£89) this year to €1,200 (£1,073) per year.