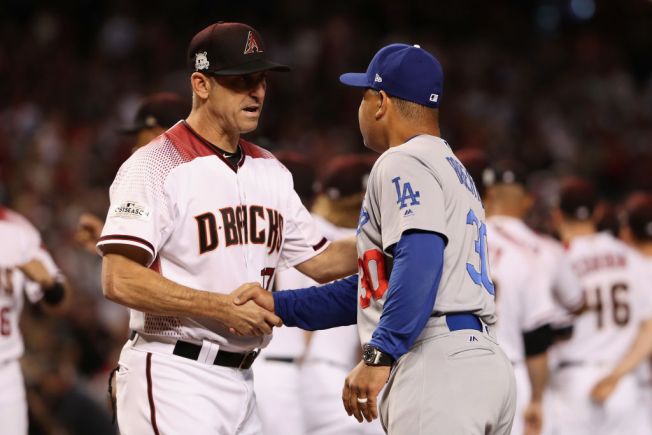 Arizona Diamondbacks manager Torey Lovullo was named National League Manager of the Year on Tuesday. In his first full season as a big league skipper, Arizona reached the playoffs a year after going 69-93. Dave Roberts, a runner-up this year, was Manager of the Year as a first-time manager for the Dodgers in 2016, as was Jeff Banister for the Rangers in '15 and Matt Williams for the Nationals in '14.
How's that for a rookie campaign?
Roberts was the reigning National League Manager of the Year victor after winning the award in 2016, and was looking to become the first back-to-back victor since Bobby Cox with the Atlanta Braves in 2004-2005. The Twins lost the wild card game to the Yankees.
Ballots from two writers in each league city prior to postseason play are tabulated on a system that rewards five points for first place, three points for second place and one point for third place.
Among the other managers who received first-place votes was Dusty Baker of the Washington Nationals, who received one and finished fifth in the voting. Last year, the Twins led the majors with 103 losses. Joe Girardi, who wasn't brought back by the Yankees, finished fourth. Frank Robinson, who was named AL manager of the year in 1989, is the only other Hall of Fame player to win the award. The Twins entered the season with paltry expectations and were sellers at the trade deadline, yet played well down the stretch to earn the AL's second Wild Card spot.
Following the announcement, make your voice heard by voting for Best Manager in the Esurance MLB Awards, where baseball legends, media, front-office personnel and fans come together to pick the winners, with postseason accomplishments factored in.