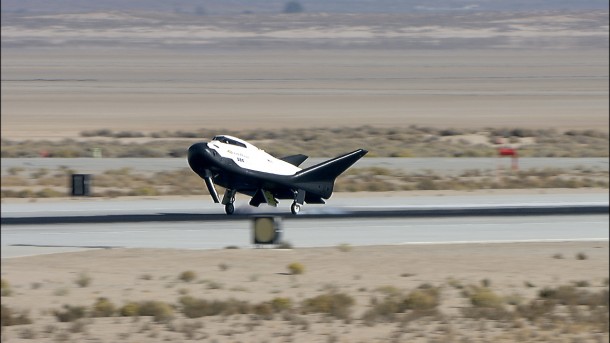 Dream Chaser also recently gained a cargo contract with NASA to cart food, water, and scientific research to and from the International Space Station (ISS).
The Dream Chaser spacecraft made a "beautiful flight and landing" during a second glide test on Saturday, according to its producer, Sierra Nevada Corporation. Earlier this year, officials at the Armstrong center, where Dream Chaser is being tested, said the space plane would to be dropped from an altitude of 12,500 feet (3,810 meters) by a Columbia 234-UT helicopter for this test. Sierra Nevada was picked for that round, along with SpaceX and Orbital ATK again. Unlike a capsule that might land in a remote area, Dream Chaser can quickly return experiments to waiting researchers.
SNC's lifting-body spacecraft has been in development for more than a decade and is created to deliver up to 5,500kg of pressurised and unpressurised cargo to the space station.
The spacecraft will be launched on top of Atlas V rockets built by the United Launch Alliance and on its return to Earth it will land on the runway. The company said several hours after the test that the glide flight was a success, and would release more details November 13.
SNC is planning to deliver cargo to the ISS in 2019 and is expected to fly "at least six cargo delivery missions to and from the space station by 2024".
Main objective of test flight was verifying ability of guidance system for independent flight and landing. "The testing will validate the aerodynamic properties, flight software and control system performance of the Dream Chaser".