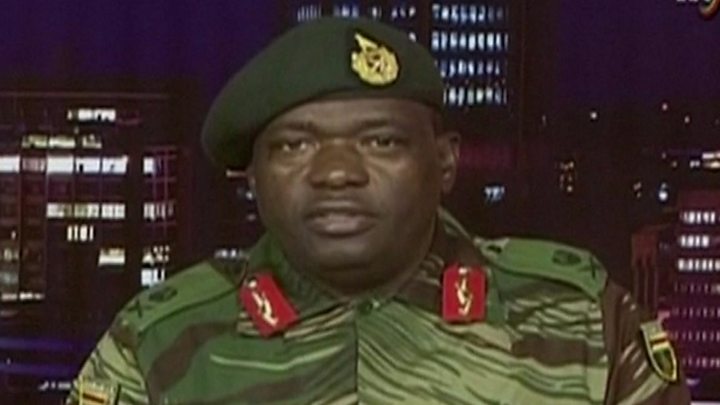 In an incendiary statement, Mugabe's ZANU-PF party accused army chief General Constantino Chiwenga of "treasonable conduct" for challenging Mugabe over the recent sacking of the vice president.
At least three explosions have been reported across Harare.
"What the Zimbabwe Defence Forces is doing is to pacify a degenerating political' social and economic situation in our country which if not addressed may result in violent conflict". "As soon as we have accomplished our mission we expect that the situation will return to normalcy".
The military added that Mugabe and his family were "safe and sound and their security is guaranteed".
This unprecedented intervention by the military has drawn angry responses from supporters of Mugabe, according to the Zimbabwe Mail which describes the country as "on the brink".
Witnesses said several state broadcaster ZBC members of staff were manhandled in the early hours of the morning (local time) as the soldiers occupied the premises, while the source of the explosions was not immediately apparent.
Despite an often abrasive manner, Grace Mugabe's commanding presence and charity work have won support from some Zimbabweans.
Tuesday's ZANU-PF statement, signed by party information secretary Simon Khaya Moyo, said Chiwenga's comments were "clearly calculated to disturb national peace and stability" and meant to "incite insurrection and violent challenge to the Constitutional Order".
Although the military are claiming this is not a coup, it certainly has all the hallmarks of one. The military has said it would only back a leader who participated in the liberation and has intervened to tamp down outside opposition.
Armoured vehicles were seen on the streets near the capital Harare as questions mounted over whether Mr Mugabe, who has ruled since independence from Britain in 1980, was still holding onto power.
The previous day, Chiwenga had made clear the army's refusal to accept the removal of Mnangagwa - like the generals a veteran of Zimbabwe's anti-colonial liberation war - and the presumed accession of Grace, once a secretary in the government typing pool.
The U.S. embassy closed to the public and encouraged citizens to shelter in place, citing "the ongoing political uncertainty through the night".
"Our wish is that you will enjoy your rights and freedoms and that we return our country to a dispensation that allows for investment, development and prosperity that we all fought for and for which many of our citizens paid the supreme sacrifice", he said.
"Defending the revolution and our leader and president is an ideal we live for and if need be it is a principle we are prepared to die for", Kudzai Chipanga, who leads the ZANU-PF Youth League, said at the party's headquarters in Harare.