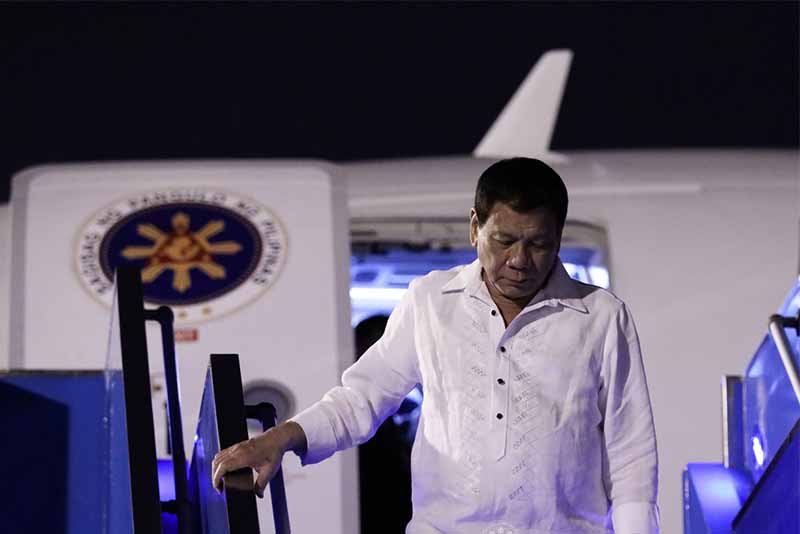 Philippine President Rodrigo Duterte, who is facing global criticism for his bloody war on drugs, said his country was willing to host a "world summit" to tackle how nations can protect human rights.
In a brief discussion, Trump told Duterte, "see you tomorrow".
In other photos, Duterte was seen shaking hands with Mexican President Enrique Peña Nieto and South Korean president Moon Jae-in.
Roque said the two leaders, who previously had two phone exchanges, appeared "genuinely pleased to have finally met in person". "The US President's willingness to challenge the appalling record of President Duterte's "war on drugs" is a crucial test of his administration's commitment to upholding and defending human rights".
Hours after being sworn in as Philippine president, Duterte goes to a Manila slum and urges residents to kill drug-addled neighbors.
Duterte was able to meet and talk with top world leaders on the sidelines of the APEC summit.
Duterte earlier threatened to ban the two American lawmakers after they criticized Trump for inviting him to visit the United States.
Thousands of people have been killed in a nation-wide crackdown on drug users since he took office in June 2016.
Roque reiterated that Duterte "will refuse to pursue any talks relating to a domestic issue such as on his war on drugs".
Outspoken Philippines President Rodrigo Duterte added to his legendary list of outrageous claims Thursday when he bragged about stabbing a person to death when he was 16 years old - and Duterte raised even more eyebrows when he reportedly later called former President Barack Obama "so black and arrogant".
Then-presidential candidate Duterte outlines plans to eradicate drugs in the Philippines by killing so many dealers it will unleash a boom for funeral businesses.
"The position is: The use of force by state agents, of course, is not absolutely prohibited".
On Wednesday, the President said he would bring up the West Philippine Sea dispute to allow Trump, who also met Chinese President Xi Jinping during the APEC event, to have a "balanced answer" with regard to the maritime row.
"Jail? Jeez. When I was a teenager, I was in and out of jail", he said, in a mixture of Tagalog and English.
Reps. Randy Hultgren of IL and James McGovern of MA, co-chairs of the Tom Lantos Human Rights Commission, wrote a letter urging Trump to discuss with Duterte in their meeting their "profound concern" over cases of extrajudicial killings as a result of the government's war against illegal drugs.