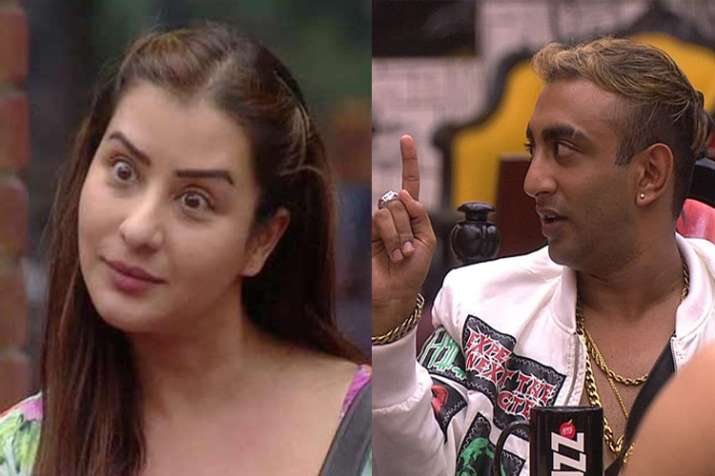 Planning and plotting started and Akash said "I am done".
Later, Puneesh gets normal and sings a song for Vikas Gupta. Vikas tried his best to manipulate Arshi and plan blocking maximum parking slots, she did not pay heed to him. The last night's episode saw the contestanst having fun in the captaincy task. At the end of the task, the baby whose pram is left out would be out of the race of captaincy.
Meanwhile apart from flirting with Hiten Tejwani, Priyank and Vikas have predicted Arshi Khan is all set to become the captain of the house.
Arshi later asked Hiten if Vikas supported anyone.
Further, Luv beats Puneesh's doll while Vikas locks Hiten's pram and says Hiten has to monitor the task. After he went, Luv claimed that he is saying so because his doll is in his hands. At 8pm, the buzzer rings again and everyone runs to park the prams.
Later, Arshi is seen seeking help from Vikas as she wants to be the captain of the house.
Thus, Hiten gets out of the task. Akash apologizes to Hiten but to no avail. She asks Vikas not to double cross her.
Shilpa's other competition, Vikas and Hiten don't have as much of a following and have never been able to get their names trending worldwide like the ladies. Hina, Priyank and Puneesh predict that either Vikas or Arshi would become the next captain.
Vikas tells Puneesh to think smartly if he wants to survive. Vikas tells Hiten that Akash is not interested in the game. Vikas says, at any cost, Luv should not win.
After that, Arshi and Vikas get into a heated argument for taking Puneesh's side over her. His romance with evicted contestant Bandgi Kalra was witnessed by everyone. Vikas also asked the "national insect" and Arshi picked "mosquito". Arshi has Shilpa's doll and she does weird things to her like dipping her in the pool.
However, Shilpa's biggest threat on the show, Hina Khan, has lost a lot of goodwill and popularity because of comments about people outside the show.
All the experiences have failed when it came to the predictions of the evictions of Bigg Boss 11. Stay tuned for more updates...