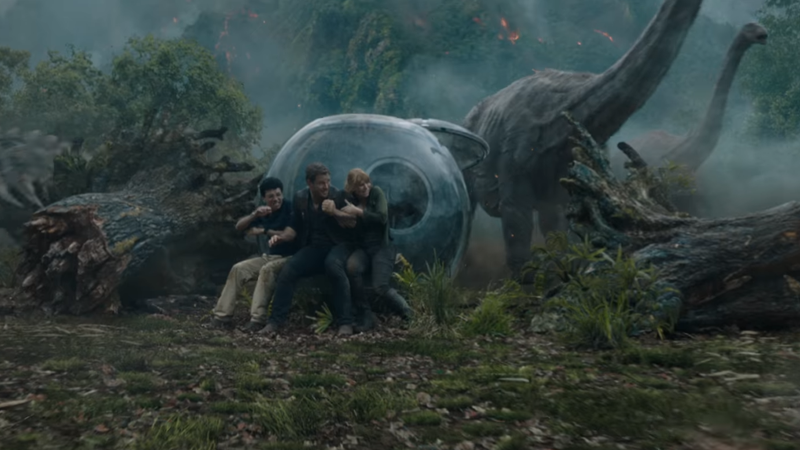 Universal Pictures released the first teaser to Jurassic World: Fallen Kingdom earlier this week, but they have already followed it up with another one!
Entertainment Weekly has a breakdown of the plot, which was written by Colin Trevorrow and Derek Connolly and was directed by J.A. Bayona.
The film's first trailer will be shared on Thursday night during the New Orleans Saints and Atlanta Falcons Thursday Night Football game. You can check out the first official image from the film below.
The clip features stars Chris Pratt and Bryce Dallas Howard along with YouTube personality Zach King, best known for his "magic" Vines. "Claire's founded an organization, Dinosaur Protection Group, and they're finding a way to get these dinosaurs off the island", she says.
It's been a couple years since Jurassic World hit theaters, and in the time since then, audiences have been wondering just where in the world they can actually take a sequel. The film really kicks off when she goes to Chris Pratt's Owen Grady for some help.
EW has the first plot details.
This is the second footage revealed for "Jurassic World: Fallen Kingdom".
Additionally, we know that this new film is set al least several years after the events of Jurassic World, and that it sees the story return to Isla Nublar where a volcano threatens the lives of dinosaurs roaming free in the former tourist park. So if the trailer doesn't show up online on Thursday, we know who to blame. Also joining the cast are Toby Jones (Captain America and Harry Potter franchises), Ted Levine (Silence of the Lambs), James Cromwell (American Horror Story: Asylum; I, Robot), and Justice Smith (The Get Down, the upcoming live action Pokemon movie).