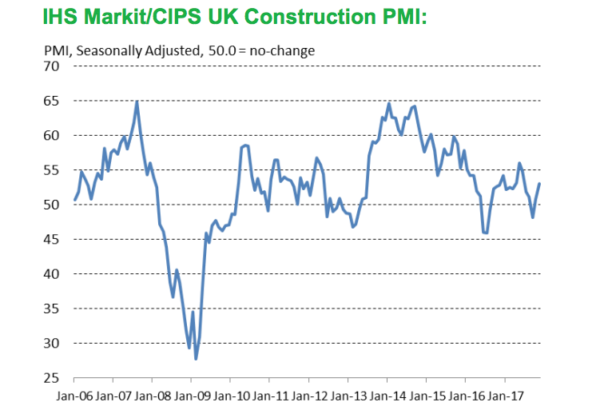 "Slower service sector growth comes as a disappointment after the improved performances of both manufacturing and construction in November", said Chris Williamson, IHS Markit's chief business economist.
IHS Markit's purchasing managers' index for the services sector fell to 53.8 in November, down from 55.6 in October and below expectations of 55.
Despite some signs of falling confidence among executives given the shaky political background, Germany's economy continues to show robust growth.
The dominant services sector lost some momentum in November while prices charged by companies rose at their fastest pace in almost 10 years, potentially adding to the country's inflation problem, a closely watched survey showed.
Ready to get started? However, any reading above 50 indicates expansion in the sector.
The UK's construction industry experienced a "moderate rebound" in November, as a pick-up in home building helped output grow at its fastest pace in five months.
Employment rose only marginally in November, with the rate of job creation unchanged from October's seven-month low.
Costs also increased, with survey respondents saying they had to pay more for energy, food, fuel, imported items and staff.
Moreover, the rate of prices charged inflation was the second-fastest seen since the survey began in 1996.
Duncan Brock, director of customer relationships at the Chartered Institute of Procurement & Supply (CIPS), said: "November's data painted a disappointing portrait of a sector struggling against Brexit-related uncertainty and a weaker economic outlook".