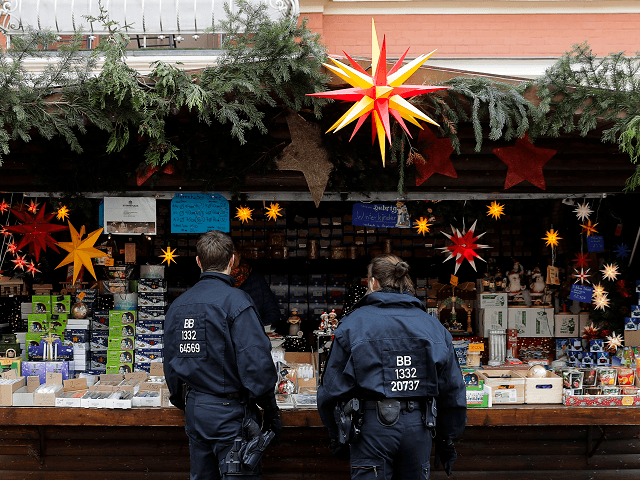 Police say it appears unlikely a suspicious package that prompted the evacuation of a German Christmas Market was meant to target the event.
Interior minister Karl-Heinz Schroeter said the powder would be analysed to determine if it was unsafe.
The delivery of parcel containing nails and an improvised explosive device to a pharmacy in the city of Potsdam on Friday triggered the temporary evacuation of the nearby Christmas market. The market was re-opened Saturday with an increased police presence.
Schroeter said a suspect asked DHL, the parcel delivery division of the German logistics company Deutsche Post, for a sum of money in the millions of euros in a note attached to the package.
Police said later on Twitter that the package included "a cylindrical object with cables, batteries and nails but at this point no ignition device has been found".
The package also contained a letter directing investigators to an online message outlining a blackmail plot and mentioning the parcel delivered to the Frankfurt an der Oder company, said Brandenburg state interior minister Karl-Heinz Schroeter.
"According to evidence so far, our investigators think it is rather unlikely that the Christmas market was the target", Potsdam police tweeted.
"It was not an act of terror but a common crime", said Heinrich Juncker, the prosecutor in charge of the investigation. "That's why we are only at the beginning of our job".
The suspect or suspects had a potential deception in terms of severe bodily injuries as it turned out that the mechanism was particularly risky and could cause very serious injury.
A pharmacist sounded the alert after finding a canister with wires inside the package.
Germany remains on high alert for potential terrorist attacks almost a year after a Tunisian Islamist rammed a hijacked articulated lorry into a Christmas market in nearby Berlin, killing 11 people.
Authorities are taking extra precautions following the attack on Berlin's Christmas market past year by an Islamic extremist who drove a truck into the crowd, killing 12 people.
Anis Amri fled to Italy after the 19 December attack and died in a shootout with police near Milan four days later.