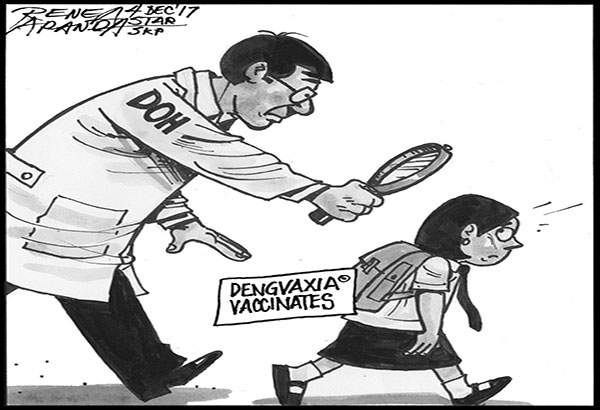 The Philippines has ordered French pharma major Sanofi to stop the sales and marketing of its Dengvaxia dengue vaccine in the country after the company warned last week it could worsen the disease in some cases, according to media reports.
The Philippines banned a government program, which involved immunizing children with Dengvaxia after releasing Sanofi's findings.
Congress and the Department of Justice have set investigations, but both will have to rely on information from health experts as a review and more research are conducted on the safety and efficacy of a vaccine against dengue.
Former health secretary Janette Garin, under whose watch P3.5 billion worth of Dengvaxia was procured by the government, said this was done in accordance with World Health Organization guidelines and with the vaccine cleared by the country's Food and Drug Administration.
On the impact of issues surrounding the vaccine in Brazil and the Philippines, the spokesperson said, "Sanofi Pasteur has taken action to transparently share this new data with the health authorities in the countries where the vaccine is in use today or where it is now being considered for regulatory approval".
"In order to protect the general public, the Food and Drug Administration (FDA) immediately directed Sanofi to suspend the sale/distribution/marketing of Dengvaxia and cause the withdrawal of Dengvaxia in the market, pending compliance with the directives of the FDA", the regulator said in a statement.
The WHO suggested the vaccine be used only among people who have had dengue infection before.
"In this group, all fully recovered with proper medical treatment". "Currently, the decision to approve the Sanofi Pasteur dengue vaccine in India is under review", the spokesperson added.
Sanofi officials said on Monday in Manila that there had been no reported deaths related to the vaccine which was used to immunize almost 734,000 children aged 9 and over in the Philippines. Children have received at least one dose through the government program.
"The WHO position paper did not include a recommendation to countries to introduce the dengue vaccine into their national immunization programs".
The developments have left families of children that been given the vaccine extremely concerned.