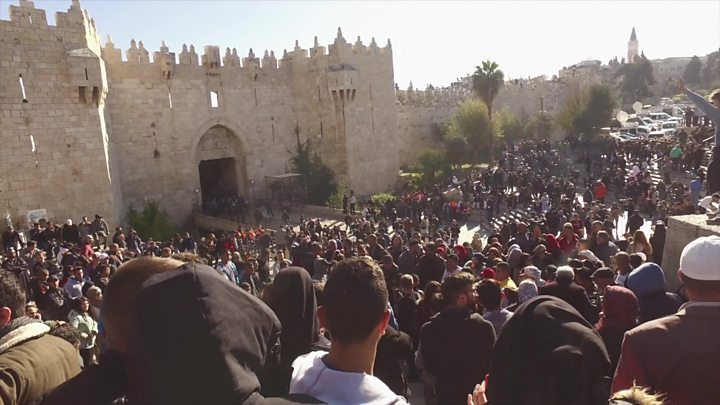 The Lebanese security forces at the scene responded by spraying the protesters with water cannons and shooting tear gas to disperse the crowd, reports The New York Times.
Today, thousands of pro-Palestinian protesters gathered in front of the U.S. embassy in Lebanon to protest the USA recognition of Jerusalem as Israel's capital.
Addressing the protesters, the head of the Lebanese Communist Party Hanna Gharib declared the United States "the enemy of Palestine" and the U.S. Embassy "a symbol of imperialist aggression" that must be closed.
Protestors, holding Palestinian flags aloft, burned United States and Israeli flags.
Similar violent protests have erupted across the world in response to Trump's decision earlier this week to formally recognize Jerusalem as Israel's capital and announce plans to move the US embassy there.
Protesters, some of them waving Palestinian flags, set fires in the street and threw projectiles toward security forces that had barricaded the main road to the US Embassy in the Awkar area north of Beirut.
The Arab world and Western allies are angered by Trump's decision to recognize Jerusalem as the capital of Israel.
Overnight the Arab League condemned the U.S. decision. The foreign ministers of the 22-member states of the Arab League met for an emergency meeting at their headquarters in Cairo on Saturday.
Lebanon is home to hundreds of thousands of so-called Palestinian refugees, almost 10 percent of the population.
WASHINGTON (AP) - President Donald Trump on Thursday celebrated an "especially special" Hanukkah at the White House, a day after declaring Jerusalem Israel's capital and setting off criticism and clashes.
The powerful Iran-backed Lebanese Shi'ite terror group Hezbollah on Thursday said it backed calls for a new Palestinian uprising against Israel in response to the US decision.
Ahead of the protests in Beirut, leaders of the 22-member Arab League said Trump's decision puts the USA on the "side of occupation" and "exempts it from a mediation role in the peace process".