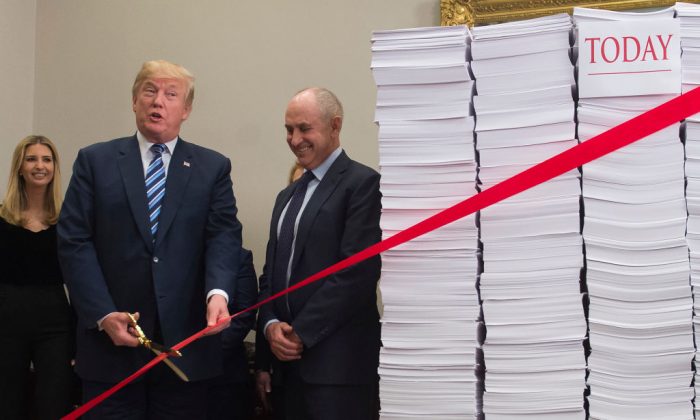 Trump said his administration is conducting the most far-reaching regulatory reform process in American history.
President Donald Trump, posing beside tall stacks of paper meant to represent regulations holding back American industry, touted his administration's deregulatory efforts Thursday and said there's more to come.
The White House believes their effort to remove two regulations for every new regulation is boosting the economy, which led Trump to boast about the 1,100 regulations that have been removed since the beginning of his presidency.
Trump and top administration officials say they've rolled back hundreds of regulations that had imposed billions of dollars of regulatory costs.
"The never-ending growth of red tape in America has come to a sudden, screeching and attractive halt", Trump said.
The president then stood between one pile of papers, labeled "1960", and the other, much larger stack labeled "Today", and cut a piece of red tape stretched between the two with gold scissors.
"The never-ending growth of red tape in America has come to a sudden, screeching and handsome halt", Trump said Thursday as his administration released its Unified Agenda, a twice-a-year report on the government's plans for new regulations.
The administration, over its first 11 months, according to the president, has "canceled or delayed more than 1,500 planned regulatory actions - more than any previous president by far".
"In 1960, there were approximately 20,000 pages in the code of federal regulations". "We're going to cut a ribbon because we're getting back below the 1960 level, and we'll be there fairly quickly".
Rao told reporters that those rules, which included agency guidance and rules repealed by Congress under the Congressional Review Act, are gone and account for $570.4 million in regulatory savings a year. The White House did not respond to a request for comment on the issue.
"I don't know if we'll have any left to cut, but we'll always find them", he said.
"The latest unified agenda is a flawless illustration of the deeply harmful real-world impacts of Trump's deregulatory push", Narang said in the email.
Trump promised to continue the deregulatory push in the second year of his administration. "We want to protect our workers, our safety, our health, and we want to protect our water, we want to protect our air, and our country's natural beauty", he said.
The event took place just after the Federal Communications Commission, in a 3-2 vote, repealed a rule of the previous Obama administration calling for "net neutrality", the principle that all internet providers treat all web traffic equally.
"Today I'm proud to announce we beat our goal by a lot", he said.