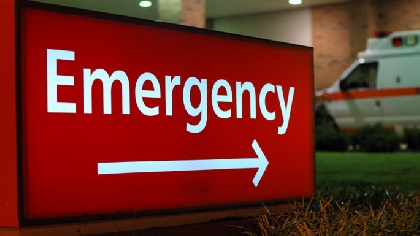 The delay that will affect hundreds of thousands patients had already been in force until mid-January, but the panel says the deferral of all non-urgent inpatient elective care will now be extended to January 31.
She said nearly 8m hospital appointments were missed every year - not including appointments cancelled in advance - which equated to nearly £1bn, with each outpatient appointment costing the NHS about £120 in 2016-17.
Many hospitals, including in Kent and Cornwall, have moved to the highest level of alert or escalation, known as OPEL 4, where they seek assistance from other healthcare services in the region because they can no longer deliver comprehensive care.
Meanwhile the public has helped by largely listening to appeals around making the appropriate choices if they feel unwell this winter, and by taking note of patient visiting rules.
The trust said only people with severe and life-threatening conditions should seek treatment at Leeds General Infirmary and St James's University Hospital.
If you need non urgent advice and don't need to come to A&E, you could call the free NHS 111 service.
"I am extremely proud of the outstanding service they provide and can not thank colleagues enough for their dedication, additional hours worked and the care they provide to each other, as well as our patients, when the going gets tough".
Each year the service comes under increased pressure in the winter, largely as a result of an increase in certain illnesses over this period, such as flu. As part of our winter plan we schedule fewer non-urgent and non-cancer operations so we are able to prioritise emergency patients.
"We will communicate with patients as soon as possible if their planned operation or outpatient appointment needs to be cancelled".
"It is absolutely not what I want", he told Sky News.
NGH's chief operating officer and deputy chief executive Deborah Needham said: "Between Christmas Eve and today, we've seen on average a new patient every four minutes in our emergency department".
Only seven NHS hospital trusts out of 153 have had average bed occupancy below 85 per cent this December - down from 17 at the same time a year ago.
"The NHS has been better prepared for this winter than ever before, we have put extra funding in", she said. We have also asked colleagues from the national Emergency Care Improvement Programme to support a renewed focus upon our discharge process.
NHS Lothian said it was monitoring the situation closely, adding that "due to current pressures it has been necessary to reschedule some elective procedures".