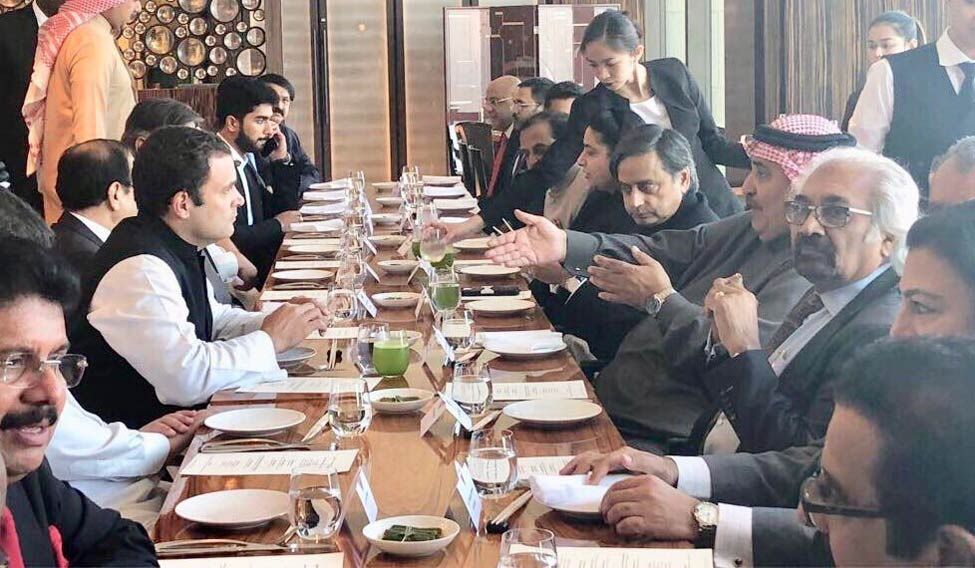 The senior BJP leader said Mr Gandhi's father and the then PM Rajiv Gandhi had committed a "sin" by passing a law under pressure from Muslim bodies to negate a Supreme Court order to provide alimony to Shah Bano after her husband divorced her.
"We expected that the baseless hate speeches Rahul Gandhi gives in India, he will not do the same and at least consider to not talk about the political differences within India when he goes to a foreign country", Prasad added.
Rahul Gandhi on Monday met with Crown Prince of Bahrain Shaikh Salman bin Hamad Al Khalifa in Manama and discussed a variety of bilateral issues of interest during his first foreign trip after becoming the Congress president.
'Congress President Rahul Gandhi met Prince Shaikh Khalid bin Hamad Al Khalifa at the Al Wadi Palace.
Addressing the Indian diaspora in Bahrain here, he said: "Tragically the conversation in our country today is not about jobs, healthcare or education". What China does in two days, it takes India one year to do.
In his speech, Gandhi claimed job creation in India was at an eight-year low. "New investments are the lowest they have been in 13 years; bank credit growth has sunk to a 63 year low".
".instead of focusing the attention of our people on what is critical, the removal of poverty, job creation and the building of a world class education system, we see instead a rise in the forces of hatred and division", he said.
"I assure you that Congress has the power to defeat BJP in 2019 elections", he said in response to a question from the audience.
He told the audience that "there is a serious problem at home" adding that the NRI community were 'a part of the solution'. "Instead of accepting that we are struggling to create jobs, instead of uniting people of all religions and communities together to face the challenge, the govt is busy converting the fear being generated in jobless youth into hatred between communities".
"Activists and journalists are threatened; they are shot dead for expressing their views. You have shown us how you have built the countries you have journeyed to", he said.
He said the Congress' objective behind launching the outreach campaign was to make citizens aware about the "anti-people" policies of the NDA government.