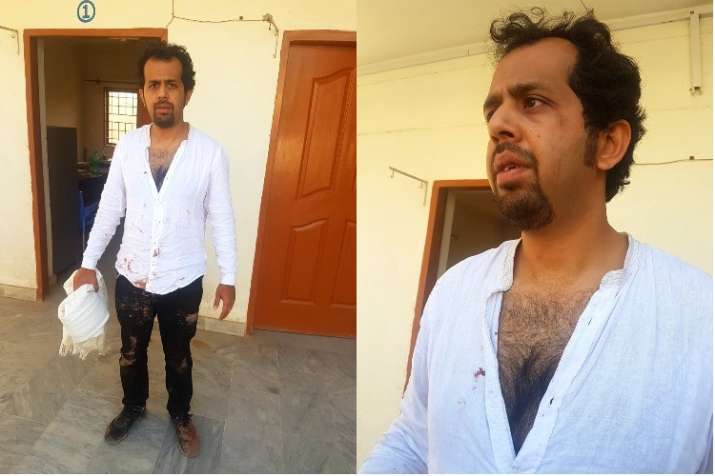 Pakistani journalist Taha Siddiqui was on his way to the airport on January 10 when his taxi was stopped and several gunmen attacked and tried to abduct him. I managed to escape.
About a dozen men armed with rifles and revolvers pulled him out of the cab, beat him and "threatened to kill" him, he said. "Safe and with police now", Siddiqui tweeted from a friend's Twitter account early in the morning. I was on my way to airport at 8.20 a.m. wh (e) n 10-12 armed men stopped my cab (and) forcibly tried to abduct me.
Tweeting local journalist Cyril Almeida's Twitter account, Taha Siddiqui said, "This is Taha Siddiqui (@TahaSSiddiqui) using Cyrils a/c".
Petitioner Taha Shakeel Siddiqui had filed a plea in the high court through his counsel Asma Jahangir, requesting the court to direct the FIA to desist "from harassing citizens simply because they have expressed a view or are carrying out their professional duties".
He ended his tweet with support "in any way possible" and added the #StopEnforcedDisappearances at the end.
Taha Siddiqui, who reports for who reports for France 24 and in 2014 won France's equivalent of the Pulitzer, the Albert Londres Prix award, told a press conference in Islamabad that he suspected security services of ordering his abduction - an allegation few dare make inside Pakistan. The attackers fled the scene and took with them his laptop, mobile phone, passport and other belongings.
- Asad Hashim (@AsadHashim) January 10, 2018Taha Siddiqui, a Pakistani journalist, was beaten and threatened, and only escaped by running through oncoming traffic.
In May past year, the Federal Investigation Agency (FIA) had issued a notice to Siddiqui, known for posting comments on social media against the military, and asked him to appear before its counterterrorism wing. Safe and with police now. Human rights activists have often accused the intelligence agencies of Pakistan, particularly those linked to the country's powerful military establishment, of being involved in such disappearances.
Wearing a blood-flecked shirt and muddy pants, Mr Siddiqui said that although he had "no proof" of the involvement of the intelligence agencies, he believed that the incident mirrored others.
After the gruesome incident, another senior journalist tweeted that "it was a miracle that he (Siddiqui) escaped".
According to the report, Siddiqui was reluctant to appear at the FIA headquarters in fear of harassment during interrogation. Almeida is a known journalist working with Dawn News.
Pakistan is ranked 139 out of 180 countries on the World Press Freedom Index in 2017.