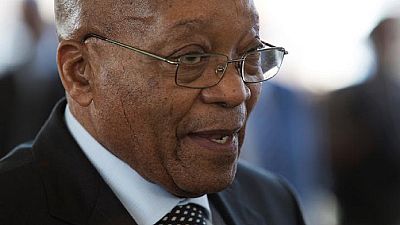 South Africa's President Jacob Zuma has relented to calls to set up a commission of inquiry into corruption allegations at the heart of government - known as state capture. Madonsela reportedly said: "There is nothing under the sun stopping president Zuma or any president from initiating 20 judicial inquiries into state capture by white monopoly capital".
"All those who will be found guilty by the Commission of Inquiry on State Capture must face the full wrath of the law", she said.
The Court ordered that, among other things, the remedial action of the Public Protector is binding and that the President is directed to appoint a commission of inquiry within 30 days, headed by a judge exclusively selected by the Chief Justice.
Zuma said they had discussed a great deal, including last year's tumultuous elections in Kenya.
The announcement comes after the North Gauteng High Court's judgment of 14 December past year, which ordered Zuma to appoint a commission of inquiry within 30 days. "I have chose to appoint a commission of inquiry".
Judges have said the commission of inquiry must complete its work within six months of being established.
Zuma had initially gone to the court to challenge a report by the former public protector, which alleged that he had allowed a wealthy Indian business family known as the Guptas to "capture the state".
She said the president should ensure that the commission head, Deputy Chief Justice Raymond Zondo, had the power to expand the issues to be investigated should any relevant evidence of state capture be brought to him during the inquiry.
While the president has appealed the cost order and the judgment regarding the duties of the president to appoint commissions, he said in a statement on Tuesday he is taking further legal advice on this. Zuma's announcement comes a day before a meeting of the ruling African National Congress executive committee amid speculation that new party leader Cyril Ramaphosa and his allies are lobbying members to oust Zuma as head of state. Some of Ramaphosa's supporters had wanted to use the first gathering of the party's leaders to pass a motion of no-confidence in Zuma and have him recalled from the Union Buildings.