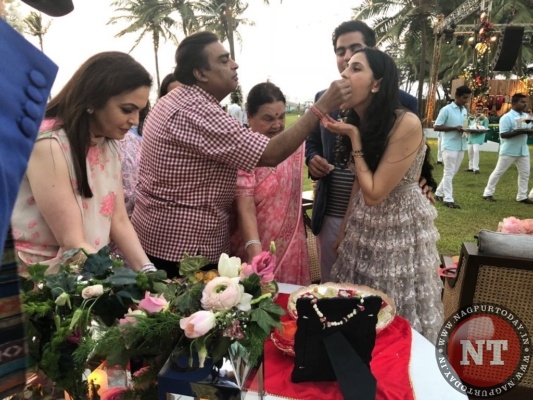 Both are involved in their respective family businesses and are equally accomplished in what they do.
India's richest man Mukesh Ambani's son Akash Ambani is engaged to Shloka Mehta - daughter of Russel & Mona Mehta.
For past few days, there has a been many speculations that Akash will marry Shloka in December later year.
She met Akash while studying at Dhirubhai Ambani International School in Mumbai.
Earlier, Nita Ambani had said, "Mukesh and me as parents have given our children the freedom to choose their life partners". While Akash was seen in a simple blue blazer, Shloka looked charming in a white shiny gown. Mukesh Ambani's mother Kokilaben and wife Nita Ambani was also present during the ceremony. Speaking to PTI, a source close to the family said, "No dates of either the wedding or engagement of Akash Ambani have been finalised".
Around 50 members of both the families have been staying in Taj Holiday Village hotel, the reported venue of the couple's engagement.
Akash Ambani graduated from Brown University and has been a pivotal part of the Reliance's Jio venture.
While Akash is one the board of directors of Reliance Jio and Reliance Retail, Shloka is the director of family-run diamond firm Rosy Blue Diamonds which is one of the world's largest diamond trading companies and is also the co-founder of ConnectFor.
Though the two families have been talking to each other for the wedding for sometime now, the plans were formalised at the Goa event, which was planned before Holi.
This will be the second diamond industry connection for the Ambanis.Diamantaire conman Nirav Modi's brother Neeshal is married to Ambani's niece, Isheta, according to Business Today. Shloka has studied at the Princeton University and the London School of Economics.