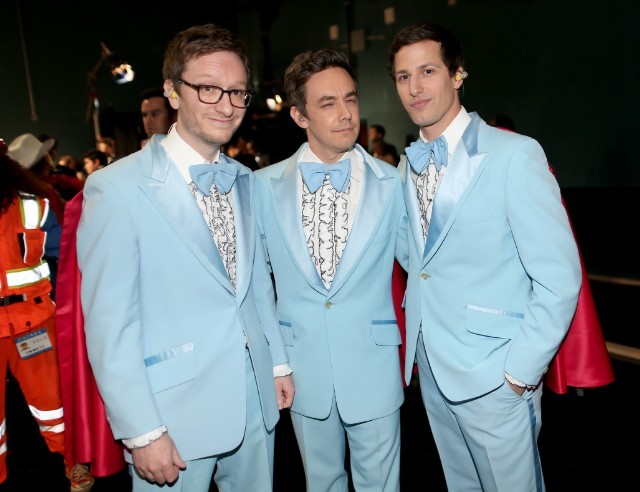 The Lonely Island claim to have been asked to write a song for the 2018 Oscars, but when they presented the proposed performance, they were told it would be "financially and logistically impossible" to put on. After another year of Oscars disappointment, the guys must be asking "why not us?" However, the resulting idea was deemed "financially and logistically impossible" and cut from the show. The good news is that they apparently maintained the rights to the material they produced, so they threw together the basic version that you can see above. Here's the video for "Why Not Me".
"Several other blockbuster characters and celebrities lend their dubbed voices to the rally throughout the remainder of the music video, including four of Hollywood's Chrises - Hemsworth, Pine, Evans, and Pratt" - as they beg for some kind of recognition.
Andy Samberg and co released their Oscar song and in an ideal world, it would have featured contributions from Thor, Wonder Woman, Vin Diesel, Pennywise, Aquaman and oddly, Michael Fassbender addressing his woeful film, The Snowman.
This video is pretty great all by itself, but it does remain sad that the original concept will probably never be fully realized.
The Lonely Island is best known for its work on "SNL", producing digital shorts like "Dick in a Box" and "I'm on a Boat", and for helping write the song Oscar-nominated song "Everything is Awesome" for "The Lego Movie".
Thank god then that The Lonely Island are here to inject a bit of comedy and madness into the proceedings. Maybe next year's Oscars budget can expand to make it into an actual video.