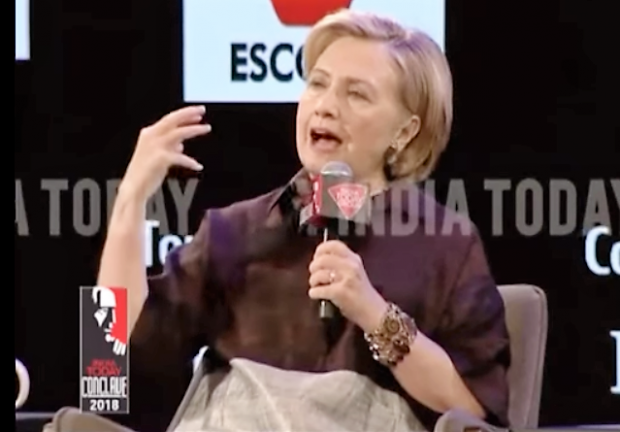 Hillary Clinton ripped President Donald Trump in a lengthy interview at a conference in Mumbai, India over the weekend.
"I won the places that are optimistic, diverse, dynamic, moving forward", she said. "And his whole campaign 'Make America Great Again, ' was looking backwards".
Clinton, who lost to Trump in the 2016 presidential election, then explained her belief Trump won because he ran a campaign unlike any other that had come before. "I win the coasts", Clinton said.
"'You know you didn't like black people getting rights", Clinton said.
Clinton, however, admitted she has second thoughts about not confronting Trump for walking and standing so close to her during the town hall.
Hillary Clinton said after the 2016 election that her decision to label many Trump supporters "deplorables" was a "political gift" to President Trump.
Clinton took a bitter tone as she talked about the electoral map and the various regions of the United States that voted for her and Trump.
Clinton said there is "the phenomenon of disappointment" about economic outcomes, particularly after the 2008 financial crisis, one of three main areas where she said she sees Americans' fears play out. "You don't like seeing that Indian American succeeding more than you".
"[Democrats] do not do well with white men, and we don't do well with married, white women. Whatever your problem is, I'm gonna solve it", she said.
As for Trump's conduct on the worldwide stage, Clinton pointed to the President's "affinity for dictators", including Russian President Vladimir Putin. By 2020, I don't think there is any way she will be able to do it.