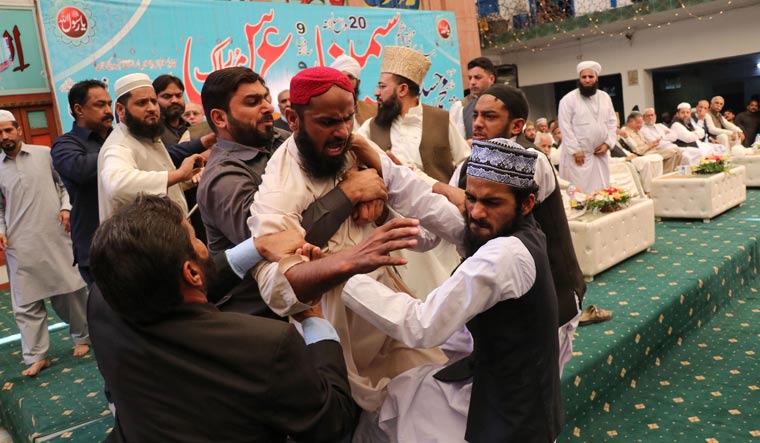 Police on Monday registered an FIR against a man, who is accused of hurling a shoe at PML-N supreme leader and former prime minister Nawaz Sharif at an event in a seminary in Lahore. The police took both attackers and one witness into custody. The student also managed to reach in front of Sharif and chanted "Labbaik Ya Rasoolullah" slogan.
Video footage showed Sharif visibly shocked in the immediate aftermath of the incident. He advised Sharif to address public meetings from behind a bullet-proof glass in the future.
Meanwhile, another man hurled his shoe at the former premier, almost hitting him.
The students were later handed over to the police.
Sharif, a three-time prime minister, was ousted by the judiciary in July 2017 over corruption charges which he is now facing in Pakistani courts.
The attacker, identified as Talha Munawwar was shifted to Services Hospital owing to injuries from being beaten up by the seminary staff and students after the incident.
The guy who threw ink at the Foreign Minister, Faiz Rasool, told the police that he vents out his anger as the PML-N had tried to change the finality of the Prophet in the Constitution.
Former prime minister Nawaz Sharif's daughter Maryam Nawaz said on Thursday that nothing had been found against Nawaz Sharif in the ongoing corruption cases during the past six months.
The mainstream parties - Pakistan People's Party and Pakistan Tehreek-e-Insaaf - condemned the incident.
Muttahida Qaumi Movement-Pakistan (MQM-P) leader Farooq Sattar said it was another rueful and unethical episode of such incidents.
On Saturday, foreign minister Khawaja Muhammad Asif's face and clothes were blackened with ink when he was addressing Pakistan Muslim League-Nawaz's (PML-N) convention in Sialkot, a city in Punjab's northeast on the border with India.