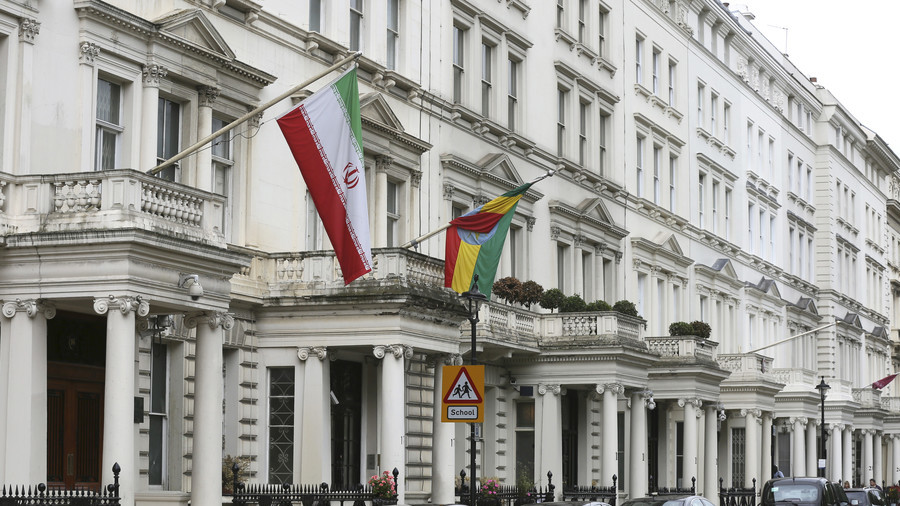 Four men dressed in black raided the Iranian embassy in London Friday afternoon, reportedly threatening staffers with machetes and baseball bats before climbing the façade of the building and taking down the Iranian flag.
Iran's ambassador to the UK, Hamid Baeidnejad, tweeted that the assailants were "advocates of the Shirazi cult" and had replaced Iran's national flag with that of their group.
Later on Friday, Qassemi said the attackers who had climbed on the balcony of the Iranian embassy in London were arrested, adding the spectacle was over.
No one was hurt during the incident and the trespassers were arrested when they came down after around three hours.
There are no reports of injuries to embassy staff.
"We were called at 4.20pm to reports of four protesters on the balcony of the Iranian embassy in Princes Gate, Knightsbridge", a spokeswoman for London's Metropolitan Police said.
Shiite cleric Grand Ayatollah Sadegh Hossein Shirazi, whose son was recently arrested for insulting Iran's Supreme Leader Ayatollah Ali Khamenei, has been a fierce critic of Iran's clerical leadership.
Meanwhile, Iranian Deputy Foreign Minister for Political Affairs Abas Araqchi reported the situation to the British Ambassador in Iran Nicholas Hopton and demanded full police protection for the diplomats from his country and the adoption of measures against the attackers.
Iran's Foreign Ministry said the British government has officially apologized over the storming of the Iranian Embassy in London by a few assailants, and the United Kingdom police has arrested all of them.
After a six-day siege, British special forces raided the building, killing five of the gunmen and arresting another.