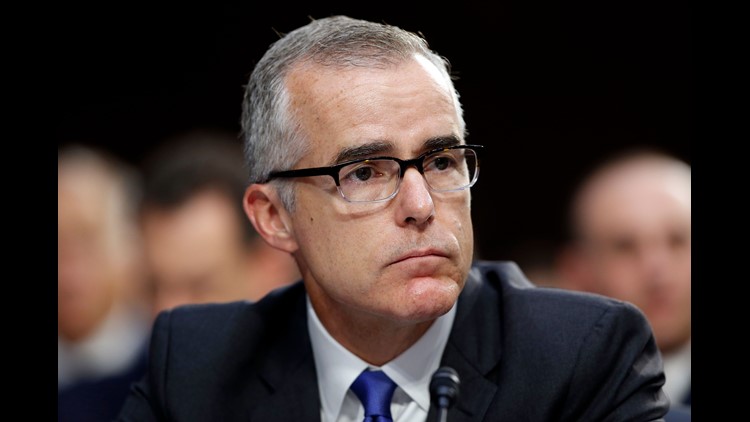 It turns out that McCabe authorized a leak to the Wall Street Journal in an attempt to boost himself, but lied to investigators and former FBI Director James Comey. The report alleges that McCabe improperly authorized the release of information to a newspaper reporter and then misled investigators about it.
"The core weakness of the OIG report is the lack of any understandable motive for his alleged wrongdoing", said the statement in part.
The president has launched a Twitter-driven attack to impugn McCabe as a partisan hack, accusing him of covering up unspecified "lies and corruption" at the Federal Bureau of Investigation and calling his firing a "great day for Democracy".
"DOJ just issued the McCabe report - which is a total disaster", the president tweeted, adding: "He LIED!"
Responding to the inspector general's report, McCabe said he believed repeated calls by President Donald Trump to fire him had prompted a rush to judgment and an unfair probe into his conduct.
The IG found that in late October 2016, McCabe authorized the disclosure to a reporter of an August 23, 2016, telephone call between McCabe and the then-principal associate deputy attorney general "to rebut a narrative that had been developing" following a Wall Street Journal story "that questioned McCabe's impartiality in overseeing FBI investigations" into Clinton's email server. "McCabe was totally controlled by Comey - McCabe is Comey!"
The report also reveals starkly contradictory accounts from Mr McCabe and Mr Comey about how the conversations with the reporter had come to take place.
The article claimed McCabe had ordered the termination of the Clinton Foundation investigation due to Department of Justice pressure. His lawyer says the inspector general unfairly tried to conclude its work before McCabe could retire. "No collusion, all made up by this den of thieves and lowlifes!"
McCabe was sacked March 16 by Attorney General Jeff Sessions just two days before he was to retire with a full federal pension.
That investigation is looking into Russian interference in the 2016 presidential election, possible collusion between the Trump campaign and the Kremlin, and possible obstruction of justice by the president.
The Associated Press has also confirmed that McCabe kept personal memos detailing interactions with the president and they have been provided to the special counsel's office. "The Inspector General found not only did McCabe divulge sensitive information, he did it without the permission, authority, or knowledge of his supervisor".