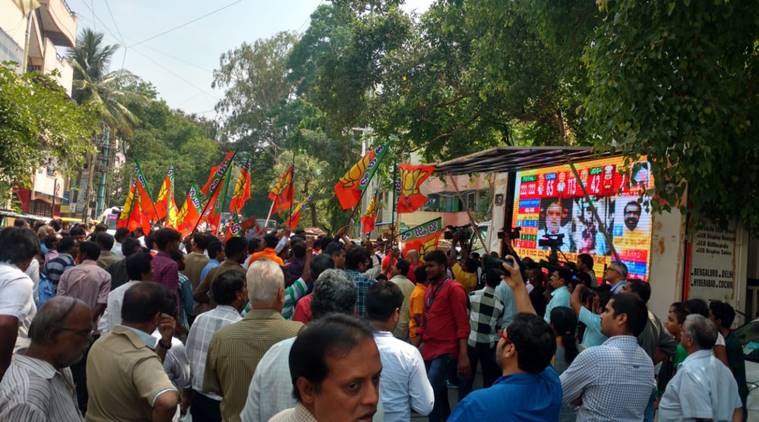 Exit polls for the Karnataka assembly elections - voting for which was held today - suggest no party will win an absolute majority but give the Bharatiya Janata Party a definite edge over the incumbent Congress with a possibility of the Janata Dal (Secular) emerging as the kingmaker.
The opposition Congress party, which has dominated Indian politics in the seven decades since independence, is fighting to retain its last major state, Karnataka, amid a fierce battle with Prime Minister Narendra Modi's ruling Hindu nationalist party.
Its leader HD Kumaraswamy, though, did seek to take a jab at the exit polls, wondering in an unusual statement, which seats had been given to the JDS that he said, had been described as "a small regional party". Earlier, voting for the Assembly polls ended at 6 pm on Saturday.
Polling was held today for 222 seats in the 225-seat Karnataka assembly. The Election Commission of India postponed polling in Rajarajeswari Nagar seat after a cache of voter ID cards were seized in a flat. First, markets could view the Karnataka election results as a litmus test of the BJP's popularity in the run-up to the next general election (scheduled for April/May 2019).
The India Today-Axis MyIndia poll gives the Congress seats in the range of between 106-118, with 112 seats as the average.
If either party ends up marginally short, there might be a scenario where they can cobble together Independents and parties like the Maharashtra Ekikaran Samiti in the Belagavi (Mumbai-Karnataka) region, which won two seats and finished second in three seats in 2013, to form the government. According to News Nation, the Congress is likely to get 71-75 seats, BJP 105-109 and JDS 36-40 seat.
Jan Ki Baat exit polls predicted 95-114 seats for BJP, 73-82 seats for Congress and 32-43 seats for JD (S) and its allies. Nearly similar results reflected in the C-Voter exit polls with BJP securing 107 seats, Congress 93 seats and JD (S) 25 seats. The Vokkaligas it seems, as per the prediction, have not been pleased with the Congress' performance and have formed only 3% of the vote share. It also faltered by compromising on the party's ideology by giving tickets to at least 10 MLAs who defected to Congress from JD (S), BJP and other local parties. Both, the BJP and the Congress, ran coalition governments with the JD (S) between 2004 and 2008.
Karnataka chief electoral officer Sanjiv Kumar said that there would be fresh polling at Lottegollahalli, of Hebbal constituency in Bengaluru on 14 May after complaints that the electronic voting machine (EVM) malfunctioned.
DCC president Taher Bin Hamdan said that Bodhan Assembly constituency polling booth network will become a role model to other Assembly constituencies in the erstwhile Nizamabad district.
The D-Street is factoring a favourable Karnataka poll outcome on Tuesday, by a split exit poll result could cause a kneejerk reaction.