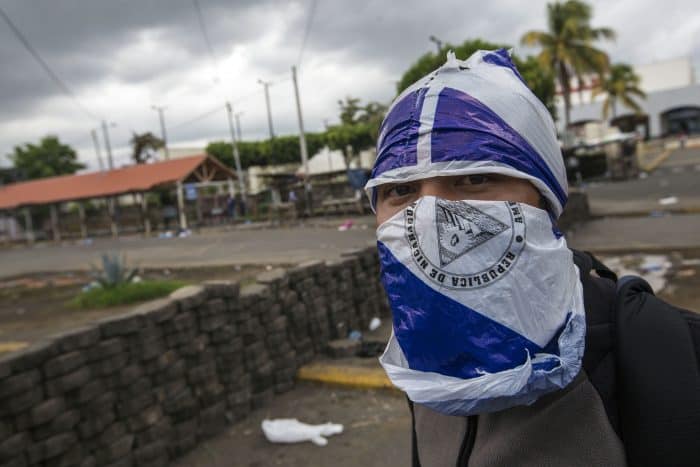 The country's Roman Catholic church hierarchy said in a statement Thursday that the violence showed that it couldn't yet resume a dialogue between protesters and President Daniel Ortega's government.
MASAYA/VATICAN CITY Nicaraguan protesters have fired homemade mortars to fend off a police crackdown in new unrest that left at least six people dead, including a U.S. citizen, as the opposition renewed calls for President Daniel Ortega's resignation. The Ortega government rejects any responsibility for the violence and blames criminal gangs.
Demonstrators burn the Sandinista radio station during clashes with riot police.
She said that they are requesting to the Inter-American Commission on Human Rights (IACHR) precautionary measures of protection "for all the relatives of the victims" and hold the Government "responsible for whatever happens to us".
The resolution is also critical of Ortega, who has been president since 2007 and was, elected three times in succession.
The protests were initially triggered by now-aborted reforms to the near-bankrupt social security system. To have love is to have them alive but now that they are no longer here, present in our hearts, we can not be joyful on this date today, " said Darling Rivas, whose son was killed in a protest.
On May 27, three masked people fired mortar at two guards standing at the main gate of the University of Central America, located in the country's capital of Managua.
The Nicaraguan Center for Human Rights (CENIDH), which is in contact with local hospitals, puts the death toll at 16, and reports that 88 people have been injured.
The US State Department issued a statement condemning the "government's violent response to peaceful Mother's Day marches in Managua and other cities yesterday, including assaults on mothers mourning their children killed since protests began April 18".
"Nicaragua belongs to all of us, and we are all staying here", Ortega said to the crowd.
Spanish protester, no name given: "People are exhausted".
Leading businessmen in Nicaragua have proposed moving up the presidential election that is now scheduled for 2021. The march ended in violence, as influential business leaders call for early elections to resolve a political standoff between Ortega's government and protesters demanding his exit from office.