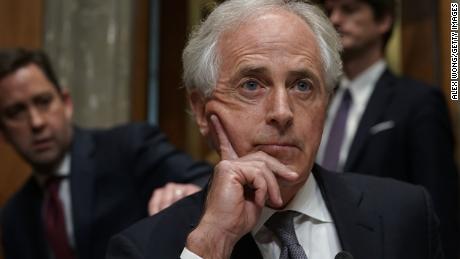 The retiring Tennessee senator was angered that his amendment to the defense authorization measure that would reclaim congressional prerogatives on trade and tariffs would not be up for a vote, and he mocked his colleagues for not standing up to the president, including the chamber's no. 2 Republican, Majority WhipJohn Cornyn.
"I heard. the senior senator from Texas saying the other day, 'Well, gosh, we might upset the president". Corker had assembled a bipartisan coalition of more than a dozen senators to sign onto his bill, which would have given Congress veto power over tariffs issued in the name of national security, but Senate Majority Leader Mitch McConnell, R-Ky., and other members of leadership had been cool to it all along.
America First: "To those who say this President is only picking winners and losers, let me say this: the only victor President Trump is picking is America".
"I can't believe it", Corker exclaimed.
Corker, who chairs the Foreign Relations Committee, criticized the president for overstepping his authority on slapping tariffs on aluminum and steel by simply claiming they were a national security interest.
"We have a lot of people willing to do what's right", he said.
Corker was particularly annoyed at Republican leadership for squashing his proposal to reel in Trump's powers to slap tariffs on key US allies on national security grounds. Corker sought unanimous consent to swap a separate piece of House legislation to resolve the so-called blue slip problem, but Oklahoma GOP Sen.
"'Gosh, we might poke the bear' is the language I've been hearing in the hallways", Corker, who authored the amendment in question, said in a fiery floor speech.
Trump Jr. then cited Senate Democrats' agreement to not include protections for recipients of the Deferred Action for Childhood Arrivals (DACA) program in the funding bill to end a government shutdown earlier this year. He also asked that his amendment be called up and made in order so the body could vote up or down on the merits of the amendment. Instead, after he was played a clip of Corker's remarks, he said, "you know what, if it's a cult, it's because they like what my father is doing".
On "Fox News @ Night", conservative columnist Bethany Mandel said Corker has a point about many Republicans being afraid to run afoul of Trump.