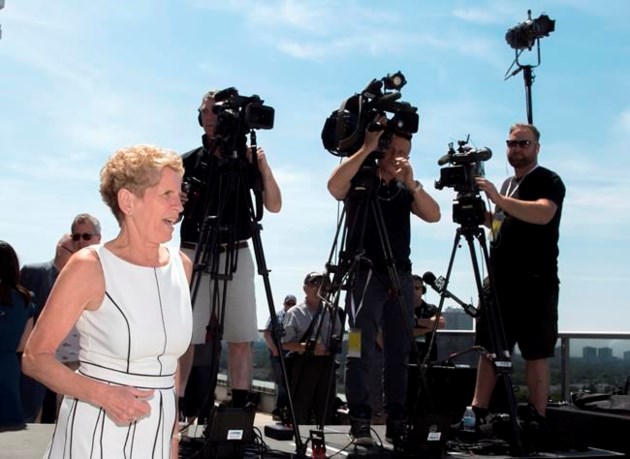 With just five days to go until voters head to the polls in Ontario, Liberal leader - and incumbent premier - Kathleen Wynne has announced she is conceding.
"The more Liberal MPPs that we send to Queen's Park on June 7th, the less likely it becomes that either Doug Ford or the NDP will be able to form a majority government". As for regrets, Wynne said: "I wish I could have figured out how to make it clearer to people that I do care, that I want their lives to be better - because I think part of the antipathy, part of the reason that people don't like me - those who don't like me - is that they don't know that I actually do care about them".
True progressives must unite around the New Democrats this Thursday and I am disappointed that Wynne is trying to set herself up as the power behind the throne in a minority government. The investigation detailed a 2013 meeting between a Liberal infrastructure minister, Glen Murray, and Marolyn Morrison, where the then-mayor of Caledon, Ont., said she faced pressure to support a residential development near her town, which she says she refused.
Brenna Keatinge, a self-described "very progressive" Toronto resident in the normally Liberal riding of St Paul's, said she used to consider voting Liberal when the party seemed the only viable contender against the Conservatives.
"It was a confluence of things", she said.
Her choice of candidates - many of them with hostile agendas - is a real dog's breakfast of social justice warriors and those highly intolerant of a diverse point of view, much like the professional protesters and the leftist profs who've turned political correctness into a caricature of itself on university campuses. It's about the people of this province.
"On the one end of the spectrum, you have Doug Ford - he's expressed his admiration for (U.S. President) Donald Trump, despite the chaos, the uncertainty that the Trump administration has caused Ontario", Wynne said.
Wynne says whichever way the vote goes, people should hope for a minority win to keep the government "from acting too extreme - one way or the other".
Tory leader Doug Ford had little to say about the announcement, noting only that the election is about change and people are fed up.
"Kathleen Wynne has abandoned the fight against Doug Ford cuts".
Wynne wouldn't say whether she'd stay on as party leader following the vote.
"It became clear - and she conceded [that] - that she can not win the election". It looks like we're not going to have a Liberal government.
"They're going to be choosing a person to lead them who will be in some very tricky, very delicate negotiations with USA officials", Wynne said.
"I believed we had a good shot at this ..."
When it came to accessing talent, the Liberals have promised $132 million over the next three years to creating more postsecondary STEM programming, while the NDP promises to create 27,000 new co-ops and internships and redistribute $57 million from the Jobs and Prosperity Fund for opportunities in trade.
At this point Liberals have to ask themselves: do I ever bother voting for my party if my leader has basically given up the fight?