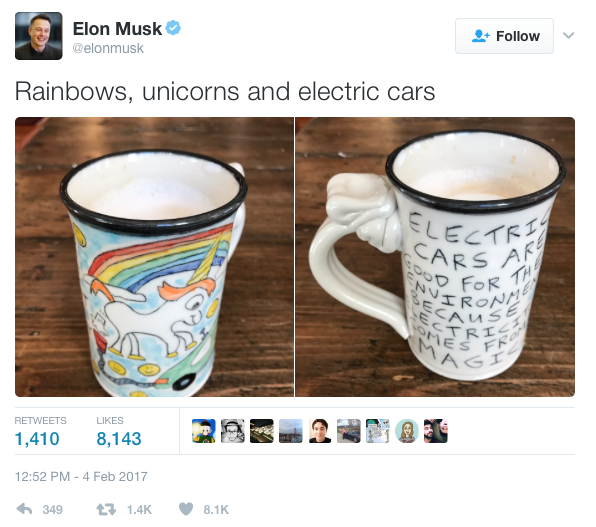 While the drawing was attributed to Musk in media reports after he posted it, Musk credited it today to Nik Jovanovic, a Twitter user who used the Tesla car's sketch pad app-itself an Easter egg-to make a redrawing of the mug's design. All of these people are now fighting over a drawing of a farting unicorn.
But the use of Edwards' work without compensation highlights what artists say is the kind of corporate theft and copyright infringement that has become rampant - forcing independent artists to engage in expensive legal battles to get credited and paid.
Edward's daughter Robin Edwards, a Seattle musician who goes by her performer name of Lisa Prank, took the fight public on Tuesday when she tweeted at Musk, saying that he'd "ripped off" her father, and demanded to know 'what do you have to say for yourself?'
Musk countered in a now-deleted tweet by saying the picture was "chosen randomly" by his software team, and would be happy to change it. Prank responded, though, that Tesla had been using the "creative property" of Edwards for a year, and he should be compensated.
In February 2017, Mr Musk shared the "whimsical drawing" of a unicorn farting electricity to power an electric auto which featured on his "favourite" mug.
Musk shared two drawings on Twitter to announce the feature, the other one being a slightly displeased Mona Lisa - only the Leonardo Da Vinci riff was signed, not the unicorn.
Edwards told Business Insider that Musk has been "arrogant" about the dispute. Allegedly the image was also used in a Christmas card sent from Musk to Tesla owners.
"I love the fact that it's in the cars, but I just want them to do the right thing and pay me adequately for it. Elon Musk can be a hero for standing up for artists' rights".
The dispute may seem low-stakes relative to the litany of scandals plaguing the electric vehicle company - workplace safety complaints, major layoffs; high-profile "autopilot" auto crashes, an exodus of executives, a suit against a whistleblower, and intense pressure to reach mass production of a new model.
Musk responded that going forwards he's instructed his team to use a different image, and added that it would be "kinda lame" for Edwards to sue.
Mr Edwards said he chose to speak out after he heard many stories about artists being ripped off. "How much money does your Dad want for this bad transgression?"
"If anything, this attention increased his mug sales", Musk wrote.
Soon the founder of Tesla and SpaceX have deleted his tweets and blocked by the artist's daughter on Twitter. But you can find Robin Edwards' tweets below.
If a unicorn farts in a Tesla, should someone pay?
Care to weigh in, Grimes?