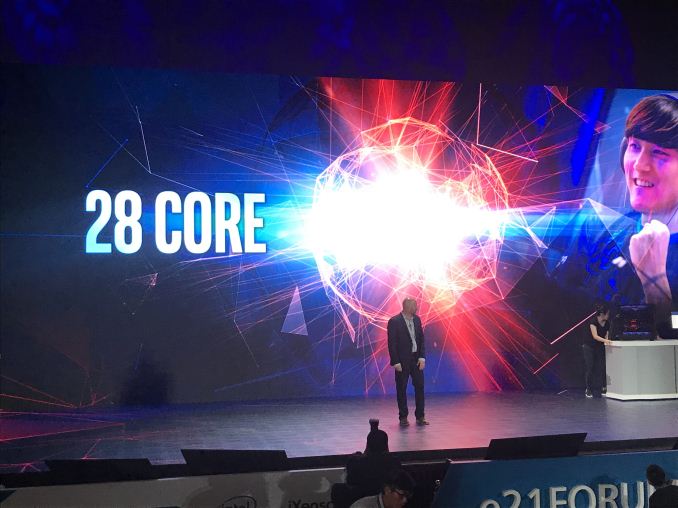 It was never more exciting than the race to 1GHz. Intel thinks that's worth marking, and so we're getting a limited edition 8th Gen Core i7-8086K processor. If and when it does come to Malaysia, one thing is for sure: it's not going to be cheap. To be clear, this is a single-socket chip with 28 cores and 56 threads of computing muscle, clocked at 5GHz.
Intel will also launch a new X-series lineup and a new Core S-series processor later this year for desktops.
Intel also provided the crowd with a brief demonstration of its prowess via Cinebench R15's muti-GPU benchmark.
But there was another reveal which is sure to excite performance junkies: Intel is releasing a limited edition anniversary processor that is capable of hitting 5GHz.
But if and when the chip does make its debut, it'll snatch pole position as the more core-leaden processors available in the consumer market; chips with more cores are around but they're more for boring data centre use. The hexa-core CPU is built on the same platform as the Core i7-8700K, which goes up to 4.7GHz, but with increased frequencies. The headline feature here is the clock speed, with the chip running at a maximum of 5GHz (default 4GHz) which is Intel's first to do so - not including previous chips that could reach this speed with a bit of tinkering. Intel did not specify a price, but it's safe to assume it will cost more than the Core i9-7980XE Extreme Edition, which debuted at $1,999 and now sells for close to $1,900 online. We'll know those details later this year-Intel is aiming to ship the new part sometime in the fourth quarter.