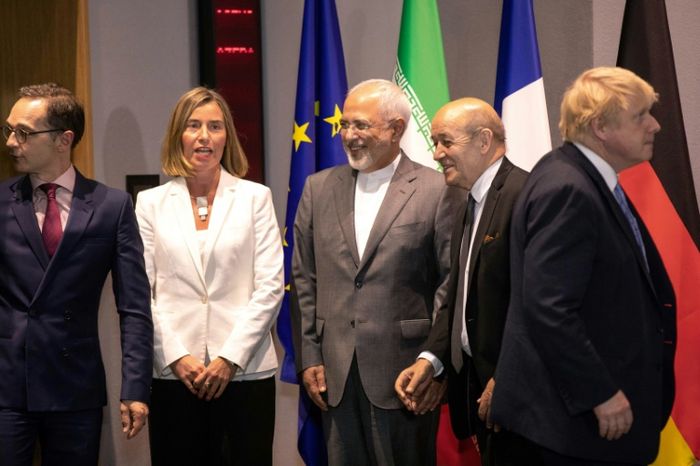 However, an unprecedented May 10 escalation in Syria that saw Israel bomb alleged Iranian targets after blaming Tehran for a rocket barrage has sparked fears of open war.
Iran's Supreme Leader Ayatollah Ali Khamenei speaks during Friday prayers in Tehran September 14, 2007.
"The people of Iran and the government of Iran will never tolerate both suffering from sanctions and nuclear restrictions", said Khamenei.
In a letter from Iranian Foreign Minister Mohammad Javad Zarif to his counterparts last week, he asked "the remaining signatories and other trade partners" to "make up for Iran's losses" caused by the USA exit, if they sought to save the deal.
"Our enemies will never be able to halt our nuclear progress.It is their bad dream and will not happen", Iranian Supreme Leader Ayatollah Ali Khamenei said in a televised speech.
Tensions have soared since the Trump administration withdrew from the landmark 2015 nuclear accord and vowed to restore sanctions unless Iran meets a list of strict demands.
One of Trump's demands - which European allies back in principle - is negotiations to rein in Iran's ballistic missile programme, which was not covered by the nuclear deal.
One of the documents seen by The Times handed over to London is a memorandum that formally hands responsibility for the production of weapons-grade enriched uranium to the Iranian defense ministry.
Trump also objected that the 2015 deal, reached under his predecessor Barack Obama, did not address Iran's nuclear work beyond 2025 or its role in conflicts in Yemen and Syria.
It is not yet known whether European countries will keep afloat the deal, which is aimed at denying Iran a nuclear weapons capability. He accused the U.S. of an "illegal withdrawal" from the deal and "bullying methods to bring other governments in line".
Khamenei sent out a series of bombastic tweets railing against Israel and the USA on Sunday in which Iran's top leader said his Middle East neighbor is a "malignant cancerous tumor" in the region.
The document was signed on behalf of the Iranian army by Amir Daryaban Ali Shamkami, now the secretary of Iran's national security council and the military adviser to Iran Supreme Leader Ayatollah Ali Khamenei.
The possible unraveling of the nuclear deal has raised concerns that the US or Israel might resort to war if Iran ramps up its nuclear activities. The supreme leader also said that "some regional countries act like their own people's enemies" presumably referring to Saudi Arabia and other USA allies in the Gulf, urging the "young Arabs... to take action and the initiative to control your own future". "We will continue our support for oppressed nations", Khamenei said. Some regional countries act like their own people's enemies, ' he said in an allusion to USA -allied Gulf Arab states who have supported rebels fighting to topple Syrian President Bashar al-Assad, a close ally of Tehran.