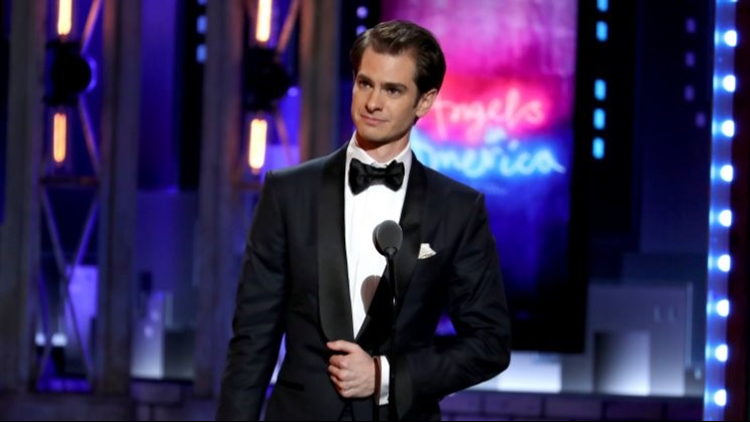 On Sunday, Angels in America actor and newly minted Tony Award victor Andrew Garfield used his speech to advocate for LGBT rights. Tragic for those of us who can't afford tickets to his show, but on the plus side, it was significantly shorter than the E Street Band's Rock and Roll Hall of Fame induction speech. However, "Carousel" choreographer Justin Peck won the Tony, and cast member Lindsay Mendez won the the Tony for best supporting actress.
According to US Today, Tony Award victor John Tiffany, who won for his role in the hit Broadway show Harry Potter and the Cursed Child, was making his way into the media room just as the Meet The Focker's actor went rogue.
Bruce Springsteen was presented a special Tony Award by Billy Joel for his hugely popular show "Springsteen on Broadway, " and Springsteen later performed.
Garfield won best actor in a play for his acclaimed performance in "Angels in America", which also won Nathan Lane his third Tony, as closeted conservative lawyer Roy Cohn, who died of AIDS.
In her acceptance speech, telling Tony hopefuls to be true to themselves, Mendez said that when she had first moved to NY, she had been told she would need to change her name. And before you knew it, almost everyone in the audience at Radio City Music Hall was on their feet.
"Your biggest obstacle", said Stachel of "The Band's Visit", addressing young artists all across the nation, "may turn out to be your objective".
The Oscar-winning actor has been a frequent, and sometimes coarse, critic of Trump. "I mean, if you're Donald Trump, it doesn't mean anything".
John Tiffany accepts the award for Best Direction of a Play for Harry Potter and the Cursed Child, Parts One and Two. "It didn't just change me, it saved me", he said.
Biggest Missed Opportunity: Tony Shalhoub won for his performance in The Band's Visit, but not for Best Mustache on Broadway.
The bill for the evening includes performances from the casts of the 2018 Tony Award-nominated shows The Band's Visit, Carousel, Frozen, Mean Girls, My Fair Lady, Once on This Island, SpongeBob SquarePants, and Summer: The Donna Summer Musical.