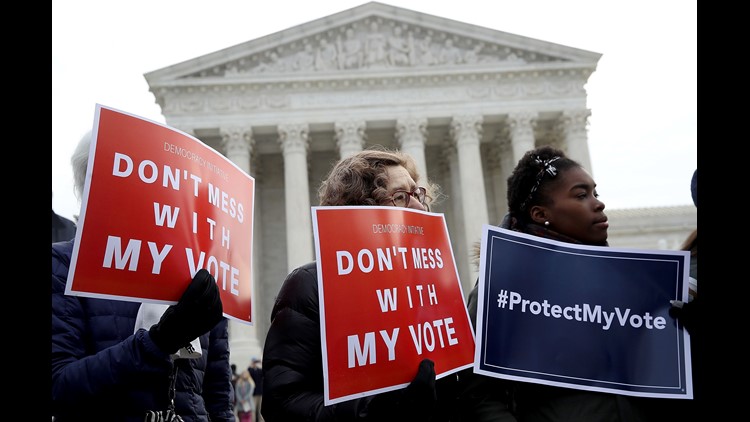 In their 5-4 ruling, the Supreme Court determined that OH was in compliance with the National Voter Registration Act of 1993.
In a 5-4 decision by Justice Samuel Alito, the Supreme Court ruled Monday that OH and other states are allowed to purge voters from their rolls who are inactive or do not respond to requests to confirm their residency.
After registered voters miss one federal general election, they receive a mailed notification acting to confirm their address. All in all, the procedures meant someone who didn't vote for six years and who threw out the notices could be removed from the rolls. The first law, the National Voter Registration Act, was enacted in 1993 to advance two goals: Making it easier for would-be voters to register while at the same time guaranteeing "accurate and current" registration lists.
The Ohio practice at issue in this case, the majority concluded, "follows subsection (d) to the letter": "It is undisputed that Ohio does not remove a registrant on change-of-residence grounds unless the registrant is sent and fails to mail back a return card and then fails to vote for an additional four years".
At least a dozen other politically conservative states said they would adopt a similar practice if OH prevailed, as a way of keeping their voter registration lists accurate and up to date. "It does not", Justice Alito wrote. If that person not respond and doesn't vote over the next four years, they are dropped from the registration list. The Ohio system puts voters who sit out just one presidential election and two midterms at risk for removal.
The majority pushed back against Justice Stephen Breyer's dissent, which was joined by Sotomayor and Justices Ruth Bader Ginsburg and Elena Kagan.
She said the majority's opinion "entirely ignores the history of voter suppression against which the NVRA was enacted and upholds a program that appears to further the very disenfranchisement of minority and low-income voters that Congress set out to eradicate".
According to Kristen Clarke, president and executive director of the Lawyers' Committee for Civil Rights Under Law, however, the decision not only "gets the law wrong", but also "sends the wrong message to state officials".
The 6th U.S. Circuit Court of Appeals in Cincinnati in 2016 blocked Ohio's policy, ruling that it ran afoul of the 1993 law.
Demos, the voting rights group that challenged Ohio's voter purge law, said in a statement that the decision "threatens the ability of voters to have their voices heard in our elections".
Last week, U.S. President Donald Trump said he would nominate Eric Murphy, the OH lawyer who argued the case on the state's behalf, to a seat on the Cincinnati-based 6th U.S. Circuit Court of Appeals.