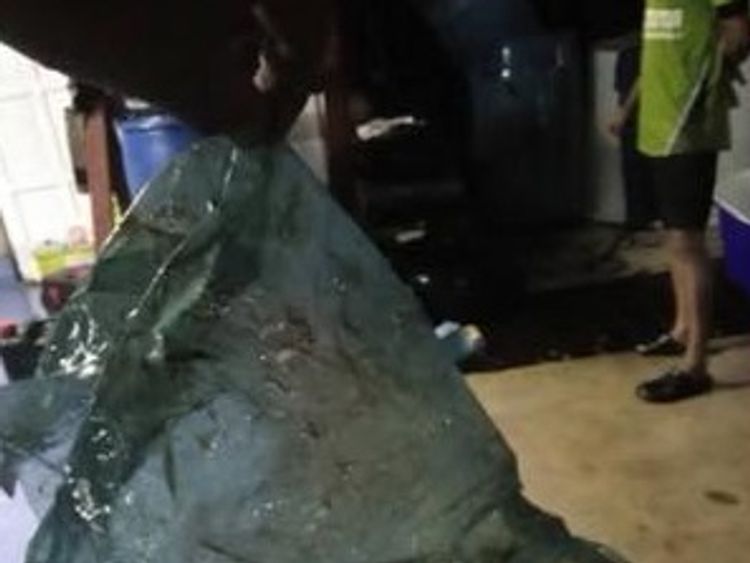 A whale that died in waters in southern Thailand this week had swallowed 80 plastic bags.
Thailand is one of the world's biggest users of plastic bags, according to The Guardian.
Volunteers and veterinarians worked for several days to save the wale.
The small male pilot whale became the latest victim after it was found barely alive in a canal near the border with Malaysia, the Department of Marine and Coastal Resources said on their Facebook page Saturday.
And in 2016, some of the more than 30 beached sperm whales beached in Europe were found with plastic debris in their stomachs, National Geographic reported, including a large fishing net, an engine cover and shards of a plastic bucket.
People used buoys to keep the whale afloat after it was first spotted on Monday and an umbrella to shield it from the sun.
An autopsy revealed plastic bags weighing eight kilograms inside the whale's stomach.
Marine officials in Thailand say about 17 pounds of plastic were removed from the stomach of a dead whale that they tried desperately to save.
A pilot whale that died in waters in southern Thailand was found struggling to swim after eating 80 plastic bags.
Almost 300 marine animals including pilot whales, sea turtles and dolphins, are killed each year in Thailand from accidental plastic consumption. "It's a huge problem", Thon Thamrongnawasawat, a marine biologist and lecturer at Kasetsart University, said.
Burutpat said that on June 1, the whale started to vomit pieces of plastic.
Veterinarian Watchara Sakornwimon told Euronews she had "never seen a lot of plastic in a whale's stomach like this".