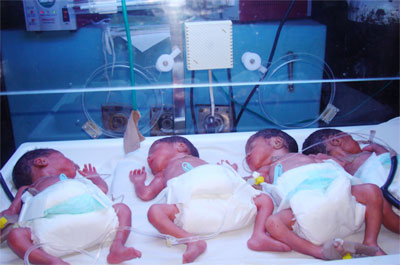 The parents fill out the questionnaire online every month until their baby was 12 months old and after it, the parents filled it in every three months until their baby was three years old.
Parents of exclusively breastfed babies were more likely to perceive their babies as having sleep problems, researchers found.
It's also worth noting these results directly contradict the findings of previous, similar studies.
The study found that babies in the first group who ate solid food plus breast milk slept for a long time period, woke for fewer hours and not have complications of sleep in comparison to those babies in the second group who were breastfed for about six months. However, a previous US study found that while the majority of babies are being introduced to solids sooner, parents are doing this in place of breast milk or formula, rather than as an addition.
The NHS Choices website says: "Starting solid food won't make your baby any more likely to sleep through the night".
Diet is brought up most often in discussions of physical fitness and weight, but the foods you eat have a profound impact on almost all of your body's functions - including sleep.
First foods can include mashed or soft cooked fruits and vegetables such as apple, pear and potato, sweet potato or parsnips. At this point, infants in the EIG slept for 16.6 minutes longer per night and the frequency of night waking decreased from 2.01 to 1.74 wakings per night in the intention-to-treat analysis.
The children's health and behaviour was followed for three years, with their sleep and consumption of solid food tracked by families through questionnaires.
Babies who are given solid foods as well as breast milk from the age of three months show signs of sleeping better than infants fed only with milk until they are six months old, a new study carried out in Britain suggests. Given that infant sleep directly affects parental quality of life, even a small improvement can have important benefits'.
Professor Mary Fewtrell of the Royal College of Paediatrics and Child Health said: 'These are interesting findings from a large randomised controlled trial.
'However, the evidence base for the existing advice on exclusive breastfeeding is over ten years old, and is now being reviewed in the United Kingdom by the Scientific Advisory Committee on Nutrition and in the EU by the European Food Safety Authority. After six months babies in both groups were eating a range of solids.
'We expect to see updated recommendations on infant feeding in the not too distant future'.
More than 1300 healthy breastfed three-month-olds were split randomly into two groups in one the babies were exclusively breastfed until they were six months old - as current guidelines recommend - while children in the other group were breastfed and given solid foods, including peanuts, eggs and wheat, from the age of three months, in addition to breastfeeding. If there is any doubt about what's best for your baby, please seek advice from your doctor or health professional'.