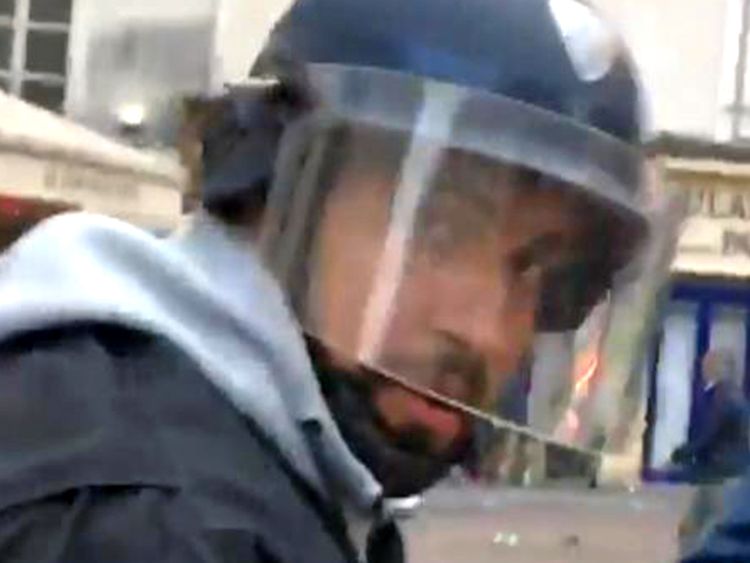 A top security officer for French president Emmanuel Macron has been detained and is being questioned by authorities after he was caught on camera beating a protester.
Opposition lawmakers blocked proceedings in parliament on Friday to demand explanations, with some saying Interior Minister Gerard Collomb's job is on the line if he knew about the incident but kept quiet about it.
It was unclear why the young man under attack, who wasn't detained, was singled out by police before Benalla intervened.
The video of the May 1 event in Paris, revealed by French newspaper Le Monde, shows Alexandre Benalla in a helmet with police markings, and surrounded by riot police, brutally dragging off a woman from a demonstration and then repeatedly beating a young man on the ground.
Mr Benalla was also seen aggressively grabbing a woman by the neck at the May Day street protest.
French President Emmanuel Macron has been criticised after his security chief was suspended for just two weeks over footage showing him beating up a student demonstrator.
In an interview with French radio SUD Thursday, Bouhafs said the protest, which was organized in the capital's Latin Quarter, went from a "convivial" atmosphere to a violent one after riot police used tear gas on the crowd and began hitting people with batons.
But the incident was not reported to prosecutors.
Regular parliamentary work has been paralyzed for two days with questions about why it took 2 1/2 months to inform judicial officials and why Benalla stayed in his post.
The affair is particularly embarrassing for Macron since he won the presidency with pledges to restore transparency and integrity to the nation's highest office.
Reports have also emerged of previous instances in which Benalla appeared to be heavy-handed.
French President Emmanuel Macron has made a decision to dismiss a top security aide after footage showing the assistant beating protesters at a May Day rally emerged. He was later recognised as a member of the French presidency staff.
After the 15-day suspension, Benalla was brought back into the president's immediate entourage.
Labor unions hold demonstrations every year on May Day in France, which often lead to police intervention.
But the video and questions about how the assault case was handled have prompted unflattering accounts of Benalla's behaviour from other officials who have worked with him.
Alexandre Benalla (wearing a grey hood) received little official punishment for the incident, leading to accusations of a cover up.
Macron has not yet officially reacted to the scandal.
Far-left leader Jean-Luc Melenchon told reporters: "If we accept that anybody can be a policeman alongside the police then we no longer have the rule of law".