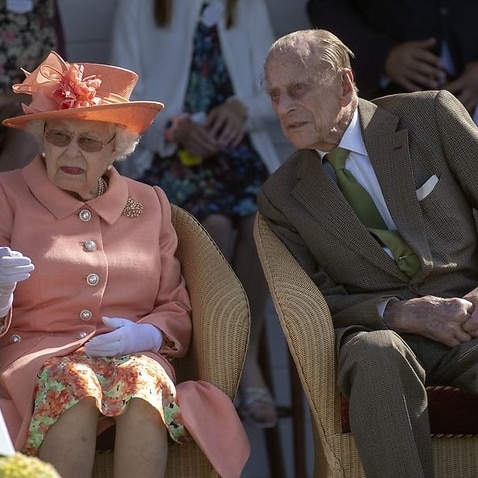 It was the first time Meghan has attended a royal family event like this, having become an aunt to Prince George, Princess Charlotte and Prince Louis in May.
Afterward, the Duke and Duchess of Cambridge hosted a tea party at Clarence House and served a portion of their wedding cake that they had saved since 2011.
Louis' godparents are a mix of close friends and family members: Nicholas van Cutsem, Guy Pelly, Harry Aubrey-Fletcher, The Lady Laura Meade and Robert Carter are all friends of the Duke and Duchess' and and Lucy Middleton is Kate's cousin.
After being worn by 62 royal babies, including Queen Elizabeth II and Prince William, the gown was deemed too fragile to wear, so a replica was created to continue the tradition.
It was an occasion that brought out much of the Royal family, including Prince Charles and his wife Camilla and Prince Harry and his wife Meghan - the Duke and Duchess of Sussex.
Prince Louis was christened at The Chapel Royal at Saint James's Palace in London, England, on Monday.
Princess Charlotte stole the show today as she saluted RAF pilots as they flew across the skies above Buckingham Palace.
Royal fanatics, who had been camped outside the hospital wing for several days in anticipation, jumped for joy and popped open champagne as the news of his birth was announced.
Princess Charlotte had a sassy message for photographers as she left her brother's christening on Monday: "You're not coming". Prince William was by Kate's side, supportive as ever. At affair, the 34-year-old socialite donned a gorgeous baby blue dress to her nephew's outing that cut a similar style to the Alexander McQueen number her 36-year-old royal sis wore to her 2017 wedding.
As People notes, the ceremony was conducted by the Archbishop of Canterbury, the Most Reverend Justin Welby.
Prince Louis now sits at fifth in line to take the throne after his grandfather Prince Charles, father Prince William, big brother Prince George and big sister Princess Charlotte.
Princess Charlotte wore a blue smock dress and matching bow headband.