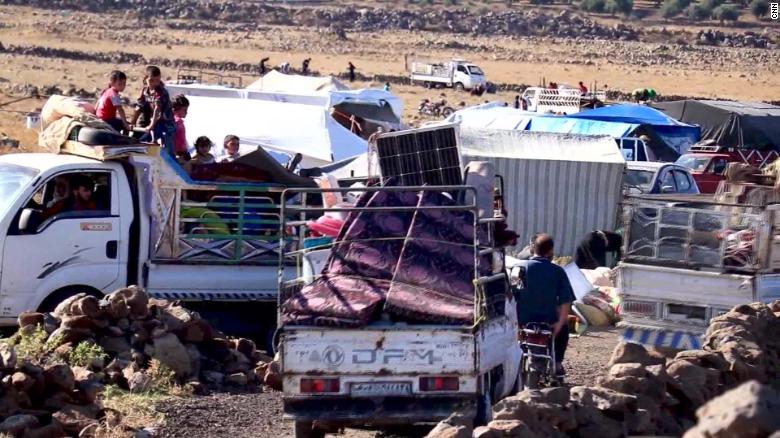 Russian Federation joins the offensive on June 23, bombing rebel-held parts of southern Syria for the first time since brokering a ceasefire there almost a year earlier, the Observatory says.
Ayman Safadi, speaking in Amman, said he would travel on Tuesday to Moscow to meet his Russian counterpart Sergei Lavrov.
"We were expecting the number of displaced in southern Syria to reach 200,000, but it has already exceeded 270,000 people in record time", said Mohammad Hawari, the spokesman for United Nations refugee agency UNHCR in Amman.
Russia, which backs a Syrian government offensive, held talks last week with rebel forces who said they rejected a "humiliating" surrender deal.
Haq said the Office of the United Nations High Commissioner for Human Rights had urged Jordan to open its border and for other countries in the region to welcome the civilian refugees.
The rebels refused to hand over their heavy arms along with surrender of the remaining territory under their control in the southern province of Dara'a.
"The United States, which had been a strong supporter of the Syrian opposition, particularly on the southern front in Daraa - the Trump administration has come to kind of a modus vivendi with Russian Federation, [allowing] Syrian troops to retake the area, as long as Iranian troops are not involved, or involved too much", Lesch says.
He said the situation in southern Syria was a cause for serious concern and needed to be resolved as soon as possible.
They "ask the United Nations and the world for protection and global guarantees" for their lives, said opposition official Ali Salhadi.
"We also remain mindful of the risks that local humanitarian workers in southern Syria face in these hard and violent times".
The violence has displaced between 270,000 and 330,000 people, according to the United Nations, many south to the border with Jordan or west near Israel's Golan Heights.
As the humanitarian situation at the border worsens, some Jordanians have called on the government to let Syrians into the country, with the hashtag "open the borders" trending on Twitter and users pledging to "share our bread" with those seeking safety.
"We did not attend negotiations today. We were not party to any agreement and we never will be", said the statement, signed by negotiator Adnan Musalima.
A source close to the talks said rebels would be willing to hand over their heavy weapons in several phases.
The Britain-based Syrian Observatory for Human Rights said on Monday there were "divisions among rebel groups" over whether to agree to the terms proposed by Russian Federation.
They hope unifying their ranks will improve their bargaining stance and get guarantees of a bigger role by Russian military police in their towns to keep at bay Syrian security forces and foreign Shi'ite militias they say are fighting with the army.